The Ribbon Network is the international network of rental companies that work with Alcons audio equipment and the pro-ribbon line-array systems in specific.

The Alcons pro-ribbon line-arrays are completely scalable "plug & play" systems with innovative speakers, amplifiers, dedicated processing, flying hardware, connecting, (prediction) software and integrated logistics.
As Alcons supplies all system components "ready-to-operate", it offers the highest available degree of standardization in the industry. This guarantees trouble-free compatibility between the Alcons pro-ribbon line-array systems, anywhere in the world.

Today's rental market place requires much more than "getting the job done"; Rental company client's expectations have risen to very high standards, sometimes over asking the rental companies capabilities (requiring irresponsible investments).

The Ribbon Network offers its members the (international) support to exceed client's expectations in increasingly competitive marketplaces. This is realized by direct factory-support, coordinating dry- (or "wet") hire cooperation between members, joint product development and other initiatives.

With a fast-growing number of members worldwide, The Ribbon Network is capable of offering the recognized Alcons sound quality for any type and size of sound reinforcement application. A very high system integration through identical equipment in combination with the TRN member's expertise, guarantees member's clients the best sound reproduction possible.


Every owner of an Alcons line-array system is member of The Ribbon Network and has therefore access to the distinct advantages of the network:





With a global operating organisation as back-bone, substantial training, service and technical back-up is supplied locally to all Network members. Project support or specific system tuning through direct communication with the factory brings the best result and the member the greatest success.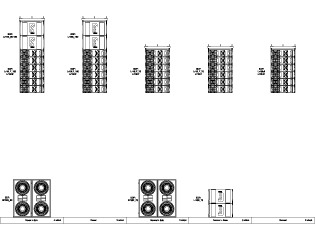 Basis for the The Ribbon line-array systems is Alcons' proprietary pro-ribbon technology, with which these systems not only excel in sound quality, but also in throw-efficiency and dispersion pattern control.

The Alcons Ribbon line-array currently consists of 3 systems: The LR7 micro line-array, the LR14 ultra-compact line-array system and the LR16 compact line-array system, of which LR7 and LR14 available in both 90-degree and 120-degree horizontal dispersion. Each system is designed to offer maximum versatility in its applications.