BASIS Vinschgau-Venosta, Italy
As part of a project funded by the European Union, a former military barracks in northern Italy has been transformed into a 'social activation hub'. BASIS Vinschgau-Venosta aims to facilitate the development of ideas in economy, culture, education, social development and is designed to bring people of all ages, backgrounds and experience together. The multi-use space features a comprehensive yet highly versatile Alcons Audio pro-ribbon audio system.
The former Druso army barracks was opened in 1937, closing in the late 1990s. In the summer of 2020, the completion of a long-term project saw the building given a new life as BASIS Vinschgau-Venosta. It's the brainchild of Hannes Götsch and is designed to host a wide range of events, including theatre, live music, movies and club nights.
"The opportunity to mix with a centre cluster and six surround speakers in a live environment drives the creativity of any sound engineer," Stefan Miglioranza, sound technician
Hannes knew Wolfgang Sauter, founder and owner of the Austrian audio specialists Pro Performance, from his work in the Viennese club scene. Pro Performance was asked by Hannes to design, plan and create the entire sound and acoustics concept for BASIS, thanks to Wolfgang's experience in demanding projects.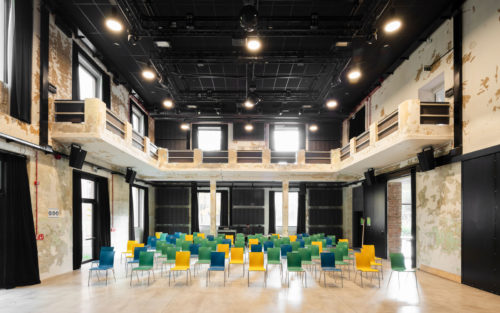 "The ability of Alcons Audio's pro-ribbon systems to deliver high quality sound in all the required areas of the application was highly attractive. It was a natural choice, thanks to its reliability, flexibility and overall best-in-class quality," says Wolfgang.
He designed and installed a system comprising six single 12" CRS12GT/90 reference surround speakers, 10 RR12 point-source 12" array modules and nine VR12 versatile single 12" monitors. Four BC543 triple 18" cardioid subwoofers and a pair of 15" BF151 mkII compact subwoofers complete the line-up. Nine Sentinel10 amplified loudspeaker controllers were used to provide the system with 36 channels of drive and control.
"The opportunity to mix with a centre cluster and six surround speakers in a live environment drives the creativity of any sound engineer," smiles sound technician Stefan Miglioranza.
"This was the first time we used the CRS12GT/90 surround speakers for the sound design of a venue used for live as well as cinema sound," adds Wolfgang. "As well as reproducing playback sound like movie soundtracks in exceptional detail, these highly flexible speakers allow sound technicians to have complete creative freedom when mixing high quality live sound. Reverberation and special effects can be effortlessly integrated into live sound."
"The stereo imaging is so detailed that, when I close my eyes, I can almost see the music." Paul Kofler, BASIS Vinschgau-Venosta sound technician
A suspended acoustic ceiling and 15 custom-built FRPA membrane absorbers (handmade by Pro Performance) were installed into the 8.5 x 12.5 x 17.5m event space to manage the acoustics.
Meanwhile another perspective is offered by renowned music and culture journalist Reinhold Giovanett, who added "With this system, it doesn't matter if you're standing in the first or back row. The quality of the sound is the same"
"I am very impressed with the accuracy of the sound reproduction from the Alcons pro-ribbon solution, no matter what the volume is," says Hannes. His thoughts are echoed by venue sound technician Paul Kofler, who says "The stereo imaging is so detailed that, when I close my eyes, I can almost see the music."
More information on: www.basis.space – www.properformance.at
Photocredits: Samuel Holzner & Tiberio Sorvillo