ALControl™ remote-control v1.72
intuitive control surface
very quick set-up time
on and off-line configuration

real time control and monitoring
Sentinel update-over-network
for Mac and PC platforms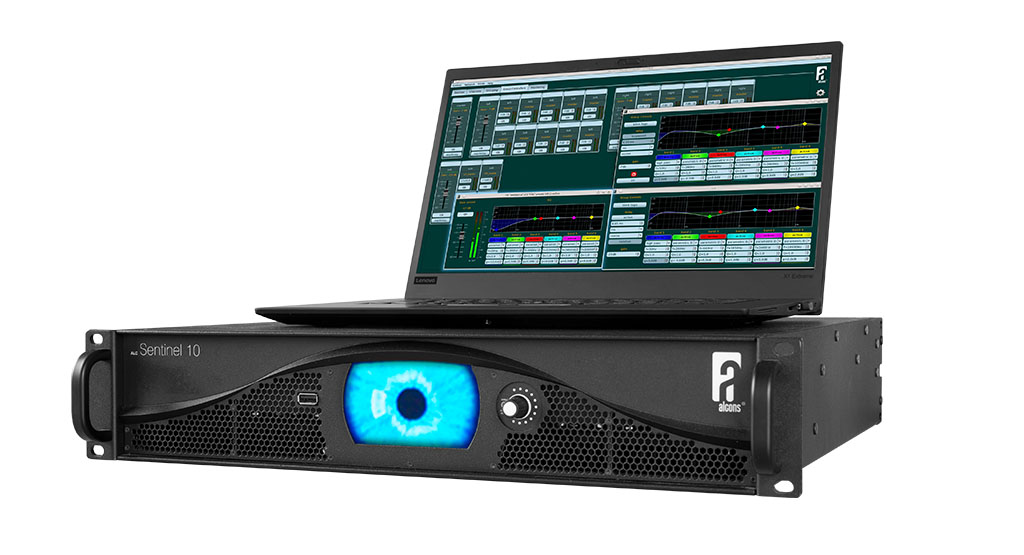 ALControl™ is Alcons' proprietary ALC software program, to control and monitor individual or multiples of Sentinel amplified loudspeaker controllers, that can be accessed from anywhere within a network.
The program features full remote configuration and control of a Sentinel, for gain, delay, equalising, but also input routing, selecting presets (factory and user), custom FIR filter input, a.o. The same functionality is available for assembled groups and sub-groups of Sentinels, with overlay control.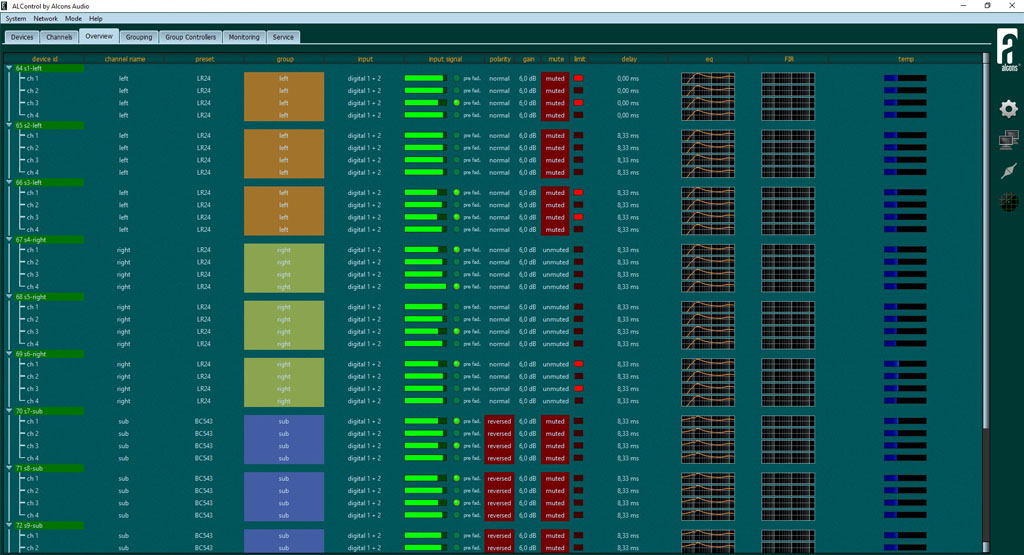 ALControl™ v1.72 Overview
An intuitive control surface, with the same "Tab page" set-up as the Sentinel touch-screen control menu, enables a very quick configuration, without having to read the user manual; When questions do arise, the on-board Help function is available.
Considerable time is further saved in the pre-production phase, as assembled systems can be completely configured both on and off-line and stored in user-presets. The auto-discovery feature automatically detects and connects Sentinels within the network.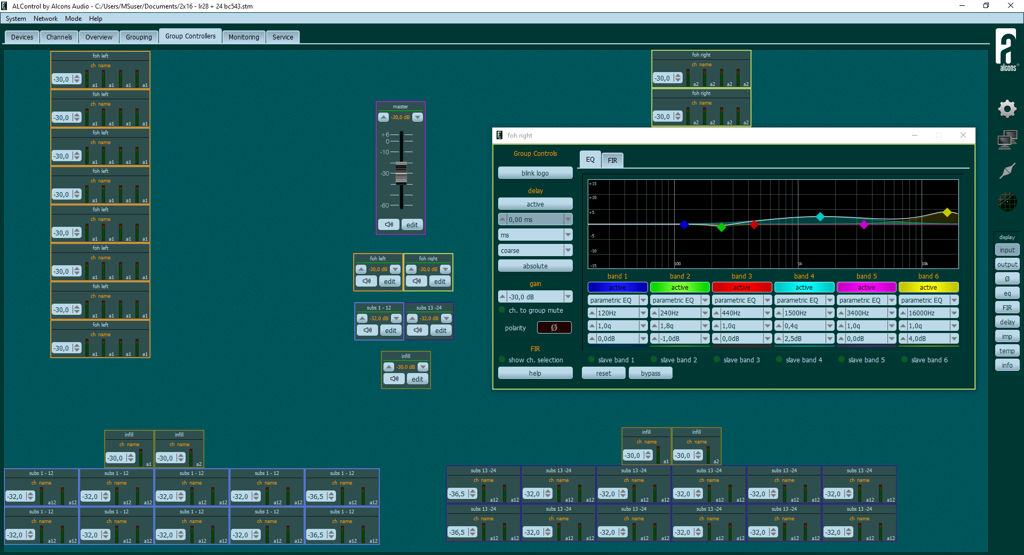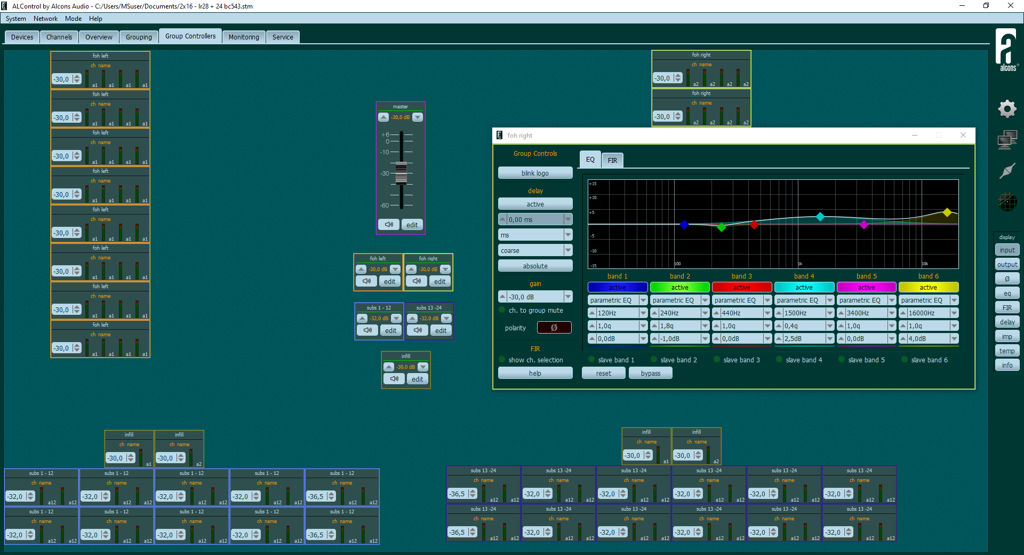 ALControl™ v1.72 Channel controller
During a production, extensive system monitoring options are available, to closely keep track of the system's performance. I.e. limiting behaviour, impedance rating, output voltage, thermal condition and even internal component communication feedback are traced and made visible in real-time read-outs, which are also recordable, for post-show evaluation.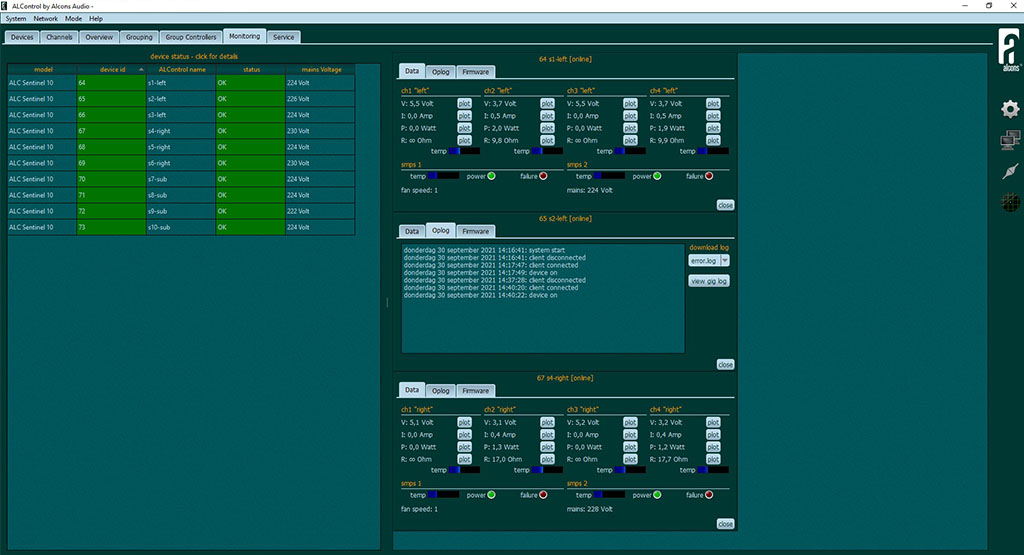 ALControl™ v1.72 Monitoring
Immediate system error notifications are made visible, regardless of what page of the program is visible on screen. The firmware of connected Sentinels can also be automatically detected and updated online.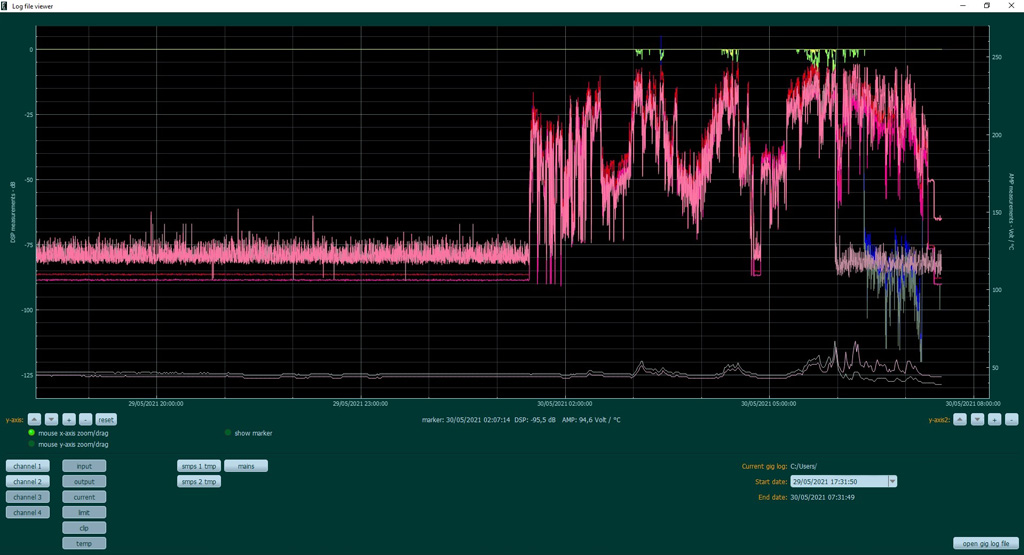 ALControl™ v1.72 Logfile viewer
For platform-independent functionality, ALControl™ can be run from both Mac and PC/Windows platforms.
Version 1.72 vs 1.71 includes the following updates;
• Add support for the different device startup modes (standby, on, previous)
• Add support for displaying the AES/EBU sample rate input of the Sentinel
• Add inverted background in the logfile viewer
• Add "sync ch. to group" option, allows a channel to be initially not synced to a group when added to a group
• Store the high headroom parameter of the Sentinel as part of the project
• Add time sync command (future feature prep.)
• Add mains Voltage read out to monitoring device list
• Simplified adding devices procedure (no "sync" or "select output mode")
• Add device manually synced, now default "dev to Alcontrol"
Download software
Please fill in this form. You will receive an e-mail with the download links.
Download Manual
Download the latest version of the ALControl™ manual.