Murat Cuhadaroglu, Instanbul Turkey
While modern surround technologies makes truly immersive sound practical for home theatre installations, such projects are compromised if the loudspeakers cannot deliver high enough quality sound. This has been no problem for Istanbul-based movie enthusiast Murat Cuhadaroglu, whose bespoke home theatre system uses Alcons loudspeakers to deliver the ultimate in audiophile sound.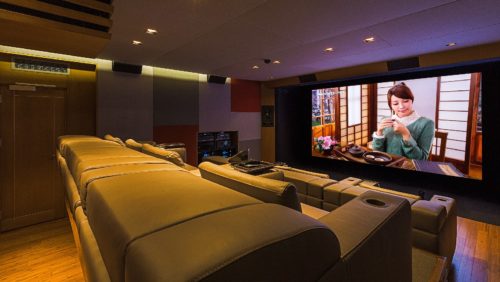 Murat built his first home theatre in 2001, moving to his current house 10 years ago where he built a better, 7.1 plus stereo, system. In 2016 he decided to replace it, removing the huge, two-channel loudspeakers and starting again with the latest technologies.
"I can hear new sounds in movies that I never heard before and the intensity is so powerful yet extremely detailed. The Alcons loudspeakers never show any sign of distortion.", Murat Cuhadaroglu
He spoke to Peter Montoulieu, proprietor of high end home cinema company Cineramax and self-styled 'top cinema guru'. Named after moons of Saturn, Peter insists that each new system has to be better than the last. Having spent $6m USD on a four cinema R&D immersion deployment, Cineramax chose the Alcons C-series as the highest quality loudspeaker solution to the 'Hyperion' system he designed for Murat.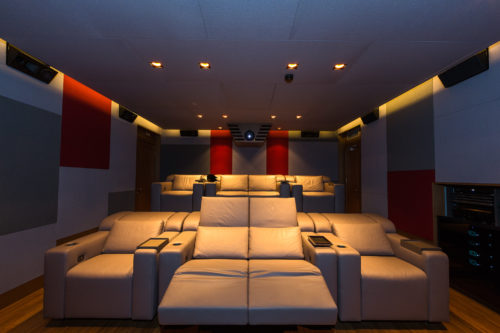 "The key aspect with the new immersive sound formats is to create a coherent, smooth 3D soundfield around the listener," says Walter Fortmüller of Walter Fortmüller SAVO, who provided his acoustic measurement and system tuning specialist skills to the project.
"The outstanding dispersion characteristics of the C-series, together with close to perfect timbre matching, meant we could achieve this audio quality in every seat. The whole listening area literally becomes the 'money seat'."
Murat wanted enough dynamic headroom and impact to convey every part of even the most intense movie soundtrack. In many cases this would mean compression driver/horns, but they always compromise in other areas. In contrast, Alcons patented pro-ribbon technology delivers the dynamic range and SPL of the best compression driver/horn designs with unsurpassed finesse and transparency. "It really is the best of both worlds," says Walter.
The Alcons C-series system for Murat's installation features three CR3 in bi-amped configuration for the L-C-R front channels, powered by two four-channel Sentinel 10 amplified loudspeaker controllers. Ten surround channels use CRMS-SRIW reference surround speakers, installed in the room's walls, with ten CRMSC-SRHOR used as the height layer, complemented by four CRMSC-SRIW ceiling loudspeakers. The surround, height and ceiling speakers are powered by six four-channel Sentinel 3s.
"It's a special 13.1.14 setup, using four subwoofers, providing optimal channel mapping for all three major 3D Immersive audio formats: Dolby Atmos, DTS:X and Auro 3D," says Walter.
Control for the system is via a Trinnov Altitude32 processor, which connects to the Sentinel ALCs through 16 channels of digital AES and 16 channels of balanced analogue XLR connections, also acting as video switch for all connected sources. The user interface is a WiFi VNC client running on an iPad, integrated with a Crestron system for central control of the entire installation.
"This is a one-of-a-kind installation that pushes the boundaries of home immersive audio." , Walter Fortmüller SAVO
With Alcons pro-ribbon technology, the sound signature and timbre don't change with dynamic shifts in SPL. Whether low volume background music, a rock concert or an action blockbuster, the output remains clean and without detectable distortion.
"This is a one-of-a-kind installation that pushes the boundaries of home immersive audio and there is no other brand of speakers that I would have rather used," says Walter. "We are delighted with the results. This will be the benchmark to beat for everything we will design from now onwards."
Murat also couldn't be happier. "When I first heard it, I was thinking 'OMG, I've never heard such sound from any home or commercial cinema system!'" he says. "I can hear new sounds in movies that I never heard before and the intensity is so powerful. Things like explosions and laser blasts are scary at times, the subs really shake the seats, but they are always incredibly clear."
He continues, "Every element is powerful, yet extremely detailed. The Alcons loudspeakers never show any sign of distortion and handle extremely 'heavy' sounds as easily as if they were playing soft music. I'm so happy that I went with the C-series!"
More info on www.cineramax.com and www.savo.at