NBC Universal, London UK
NBCUniversal, one of the world's leading media and entertainment companies, has recently completed the refurbishment of its Central St Giles offices in London. The project included the creation of two state-of-the-art preview theatres for executive and private screenings. Alcons cinema specific C-series loudspeakers were chosen as an integral part of the installation.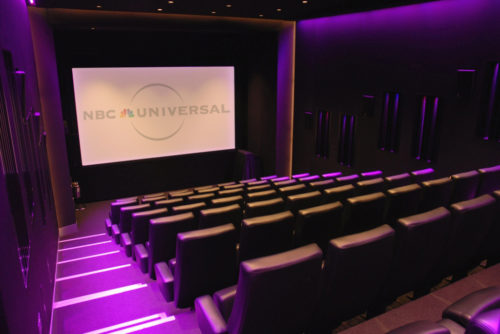 "For NBCUniversal's new facility at Central St. Giles, we wanted to achieve the highest quality environment for sound and image," says cinema optics consultant Laurence Claydon, who engaged acoustic consultancy company White Mark on the project. "We already had experience of Alcons CR1, having achieved excellent results at Universal's original Oxford Street facility, and retained some of these components for the smaller screening room."
"These rooms are amongst the best we have ever heard," Robin Sellars, Engineer – Jesus Christ Superstar.
The larger room has a CR4 3-way screen system, comprising two 15″ LF, four 6.5″ MF and three 4″ pro-ribbon HF, tri-amplified by two 2kW ALC2, with two 4kW ALC4 amplified loudspeaker controllers with SDP processing. The room features the all-new CRS8 2-way 8″ vented LF + 4″ pro-ribbon HF surrounds, with identical screen/surround components for perfect voice matching, with two CB362 low-tuned double 18″ woofers providing sub bass.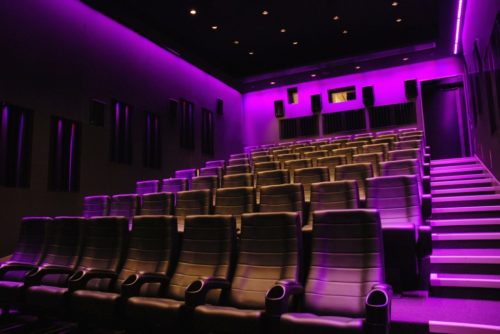 The smaller room, meanwhile, benefits from a CR1 screen system, 3-way passive system comprising one 12″ LF, 1x 6.5″ MF, a 4″ pro-ribbon HF, with only 18cm / 7-in. system depth, 2-way CCS8 surrounds and a BF181i as subwoofer. All elements are powered and controlled by an ALC2 amplified loudspeaker controller.
"To get the new screening room environment right was a significant engineering challenge, and we engaged Acoustic designers White Mark Limited at an early stage," Claydon continues. "Architect Renzo Piano's new Central St Giles complex was primarily designed to house offices, and didn't really lend itself to building a heavy, acoustically-isolated, floating preview theatre of 64 seats. We certainly didn't have enough floor-to-ceiling height or load-bearing capacity to build on the upper floors."
Eventually, a double-height area with a mezzanine was located behind the main reception. With some careful design, this was able to accommodate two preview theatres; one with 64 seats and one with 15 seats. Both screening rooms offer an optimum viewing and listening environment, with the stadium seating raked sufficiently to ensure there is never a patron in the row in front obscuring the view.
"The internal acoustic design was also excellent," says Claydon. "White Mark has done an amazing job balancing excellent bass absorption with diffusion in both rooms. In combination with the Alcons C-Series, we required very minimal EQ to tune the system."
Complementing this is an acoustically transparent woven screen from Screen Research. Claydon adds, "These not only provide best audio quality, but also have incredibly even reflective properties at any viewing angle, and are completely free from any Moiré patterning we would see on perforated screens when projecting digitally."
Finally, projection is provided by a 4K Christie CP4220 in the large theatre, and 2K Christie CP2210 in the smaller room. Both rooms are ready for High-Framerate 3D, featuring Dolby and Doremi Integrated Media Blocks. A Dolby CP750 cinema sound processor is provided for professional sources, and an Arcam AV888 for domestic sources. Future sound formats, such as Dolby Atmos, will also be easy to accommodate at a later stage.
"Both rooms are now in almost full-time use," says Claydon. "Universal Pictures are incredibly pleased with the results and we were delighted to have Andrew Lloyd Webber attend the larger theatre a few weeks back."
"These rooms are amongst the best we have ever heard," adds Robin Sellars, Engineer – Jesus Christ Superstar."
"Comments from the wider industry have also been incredibly positive," Claydon concludes. "Many have been surprised at the step-change in quality we've been able to achieve."