Universitas Parahyangan, Bandung Indonesia
A major new development at Universitas Katolik Parahyangan (Parahyangan Catholic University) in Bandung, West Java, has seen the inclusion of a high specification, multipurpose auditorium for choir performances, presentations and lectures. An Alcons Audio system has been chosen to make sure every event has the best possible sound.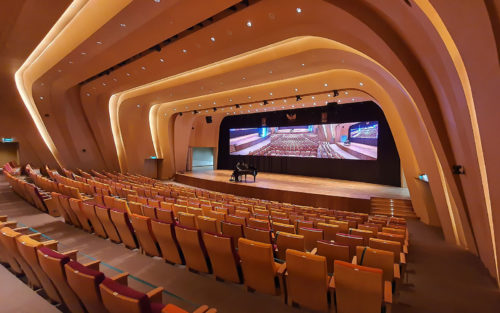 The university tasked design and build contractor PT Esa Sinergi Selaras Indonesia (PT ESSI) with delivering the best quality audio in the new auditorium. With the need for exceptional speech intelligibility, tight, articulate bass and uniform, seamless sound, an Alcons system was the obvious solution.
"We truly believe that the this may be one of the best sound systems for auditoriums in the whole of Indonesia." Hardy Nanda, A/V Specialist PT ESSI
PT ESSI also chose Alcons knowing that the company's pro-ribbon technology would ensure minimal ear fatigue for audiences. Jakarta-based KC Sound – Alcons Indonesian representative – would also be on hand to offer full support, including tuning the system to deliver its full potential.
The chosen system is very efficient for an approximately 1000 seat auditorium. It comprises compact hangs of two single 12" VR12/90 mid-size versatile monitors on each side of the stage, plus a central BF362i mkII double 18" high output subwoofer beneath the stage. Amplification and control duties are fulfilled by a single 4x 2.5 kW Sentinel10 amplified loudspeaker controller.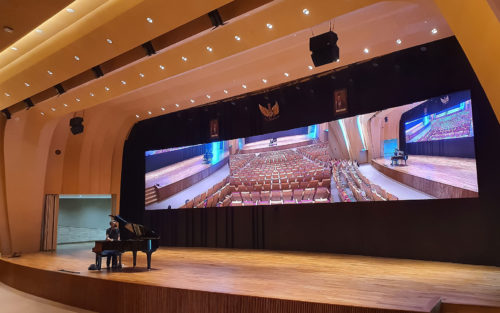 The compact, two-way VR12 monitor is ideal for applications like this where high output, high quality sound reinforcement is needed. Its patented 6" RBN601 pro-ribbon driver guarantees high frequencies are delivered with minimal distortion, from 1kHz upwards and even at the highest volumes, ensuring audiences enjoy the sound of even the longest lectures or music performances.
The system's compact size also ensures an unobstructed view of a giant video screen installed downstage, even at the back of the raked audience seating, and that there is no visual impact on the auditorium's modern, attractive décor.
"Before the new building formally opened, we hosted five trial events, which included demonstrating the audio system," says Hardy Nanda A/V specialist of PT ESSI. "University staff and audience members alike said that this is not just a good-sounding system, but it is really outstanding. We truly believe that the this may be one of the best sound systems for auditoriums in the whole of Indonesia."
More information on: www.unpar.ac.id – www.kcsound-id.com