Gold Standard Sound For CMA Fest's 50th Anniversary
November, 2023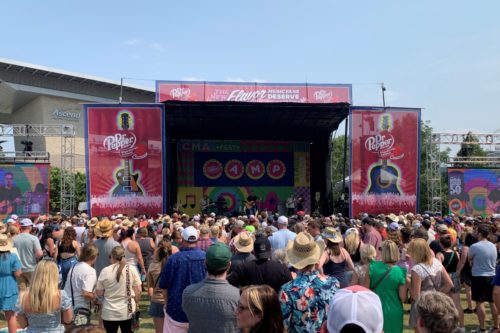 2023 marked the 50th anniversary of the four-day CMA Fest in Nashville, Tennessee. Billed as 'the ultimate country music fan experience', it is staged by the Country Music Association and is one of the world's largest country music festivals, attracting tens of thousands of people from across the globe. After a successful debut in 2022, Alcons Audio returned to the event's Dr Pepper Amp stage with the LR24 pro-ribbon touring system, which had made a big impact on audiences and mixing engineers last year.
Since the launch of the LR24 mid-size line-array module in 2020, Alcons has been working hard to develop its presence in the North American touring and production market. An important part of this has been working with providers and vendors, to give sound engineers and event organisers the chance to preview the company's pro-ribbon systems in real world environments. Last year, Alcons' partnership at CMA Fest with production company DCR Nashville went so well that DCR asked the company to return for this year's event.
"How a system sounds is only half the story," says Alcons Audio North American Sales Manager David Rahn. "How does it pack in a truck? How much does it weigh? Does it load in, fly and load out quickly, safely and easily? Is it easy to set up? What about operation during the show? The easiest and best way to prove these things is by doing it for real."
David travelled to Nashville as part of the initial set up team, accompanied by certified Alcons Audio systems engineer , Martin Reeves, and staff from DCR Nashville. Because of scheduling conflicts, the advanced team had to deliver, fly and prepare the system before the arrival of Erik Rogers, who would again be the Dr Pepper Amp stage's dedicated Front of House engineer.
"This is the most accurate system I've ever mixed on; It allows me to really focus on the creative side of the show and not worry about any system-related challenges." Erik Rogers, sound engineer.
Dr Pepper Amp Stage is over 300 feet (91.5 meters) deep and, as last year, the Alcons system comprised eight flown LR24/90 three-way, dual 12" mid-size line-array module per side, plus six BC543, triple 18-inch very high-output cardioid subwoofers, arrayed in front of the stage. They were complemented by six LR18 three-way, dual 8" compact line-array modules as single element front fills, evenly spread across the stage front. The system was powered and controlled by 36 channels of Sentinel10 amplified loudspeaker controllers.
"Having experience with many smaller Alcons pro-ribbon systems, I was really excited to be part of the support team deploying the LR24 at CMA Fest," says Martin. "The systems are all so well thought out. Packaging and transport, ease and versatility of rigging, the network control interface – it all comes together so seamlessly that, as an engineer, you get to spend more time focusing on show production and not worrying about system issues."
"The new patent-pending rigging system allows for pre-rigging of the array angles, without any lifting, resulting in safer and faster set up," adds David. "Upon Erik's arrival, we were able to focus on system tuning and other festival-related aspects such as input lists and patching, to make sure the quick stage turnarounds went as smoothly as possible."
Martin agrees, adding, "It just sounds so damn good! Tuning and aligning Alcons pro-ribbon systems is incredibly quick. Once its aligned and set, the imaging is one of the first things that stands out. It's such a big stereo image, with all the sources in their unique position.
"The fidelity, dynamics and low distortion are apparent in every Alcons rig I have ever worked with. I really enjoy setting up and working with these systems. Alcons continues to impress me with its unmatched dedication to engineering and build quality."
Although he had been present at earlier Alcons demos, last year's CMA Fest was the first time Erik had mixed on an Alcons pro-ribbon system. Last year he said, "The system performance was so transparent that I found myself using the console much more surgically than I usually do. I could really focus in on the intricate details of each input."
This year, he was equally impressed, saying, "The LR24 and its pro-ribbon driver maintains that in-your-face full range sound with plenty of detail and nuance in the mix, while the BC543 cardioid subs covered the audience seamlessly while also keeping the low-end off of the stage.
This is the most accurate system I've ever mixed on; It allows me to really focus on the creative side of the show and not worry about any system-related challenges. And once again, every guest mixing engineer was very complimentary about the system!"
More information is available on: www.erikrogersaudio.com and www.cmafest.com