Alcons' Award-Winning CEDIA Show
October, 2016
Mid-September saw Alcons return to CEDIA, one of the premier showcases for the North American home technology industry, for the second year and even greater acclaim than in 2015. The Alcons Pro-Ribbon Immersive Experience so impressed visitors that it was voted the Best Audio Demo by specialist AV news outlet rAVe Publications.
Based on its success in the post-production studio and commercial cinema sector, Alcons is bringing ultimate quality audio to the residential market. At CEDIA the company showcased its high-end, C-series home cinema systems in the Alcons Pro-Ribbon Immersive Experience, a joint collaboration with Barco Residential, DreamScreen and Trinnov, with system design by Cineramax.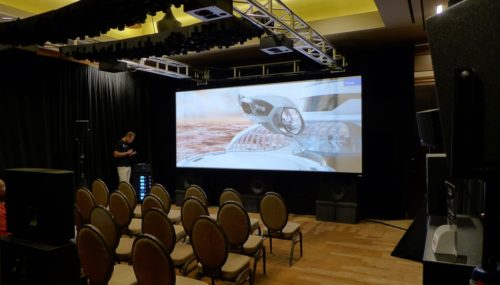 The installation featured an 11.1.8, Dolby Atmos-based system featuring 23 Alcons loudspeakers, driven by seven Sentinel four-channel amplified loudspeaker controllers. With a Trinnov Altitude32 processor running 16 channels of AES3 digital audio and 8 of analogue, the system proved that Alcons is the ideal solution for high end residential installations – a fact backed up by winning the Best Audio Demo award.
"Although this was our second year at CEDIA, it was the first time with our own demonstration facility and it's always difficult to anticipate what people expect. Will they want a full-specification, immersive surround system or a more budget-oriented set-up?" says Alcons co-founder Tom Back. "We decided that we would demonstrate the 'ultimate' sound that is possible with Alcons, so we showcased a 11.1.8 'cost-no-issue' system with 24 channels of processing."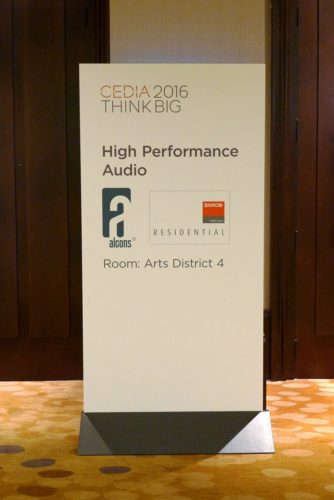 The size of the demonstration system meant that it could produce SPLs far in excess of those required for most residential systems but, with all of the company's pro-ribbon products delivering up to 90% less distortion than traditional audio systems and a 1:15 RMS-to-peak ratio, the sound quality was exceptional. Alcons systems do not saturate or compress, enabling an undistorted, dynamic range which is far higher than people used to products by other manufacturers are accustomed to.
"The decision to participate in this year's CEDIA went hand-in-hand with our commitment to fully entering the residential market," says Tom. "The 'ultimate' system we showed proved that our products can deliver very high SPL levels with remarkable clarity. In fact a typical, smaller residential system would cost around 25% of the one being demonstrated, with no compromise on audio quality."
He continues, "With the excellent feedback and high level of interest we received, our next steps are developing a dedicated sales channel, a marketing strategy and a review of our product portfolio to focus on producing dedicated residential systems as well as our cinema products."
"With a full room for every demonstration, it was clear that there is a real buzz about Alcons pro-ribbon technology in the residential market," adds Alcons US national sales manager David Rahn. "The response was overwhelming and we had many 'best of show' comments from visitors. We even had to get a business card scanner during the first morning, as we couldn't handle all requests manually!"
"We must also thank our partners Barco Residential, Trinnov, DreamScreen and Cineramax for the fantastic feedback we received," Tom concludes. "We are already working on the next Pro-Ribbon Immersive Experience for the Integrated Systems Europe show, which takes place in Amsterdam in February 2017."
The full Alcons specification for the Alcons Pro-Ribbon Immersive Experience at CEDIA 2016 was:
– Front channel: Three CR3 3-way mid-size screen system (2×15", 2×6.5", 2xRBN401 4" pro-ribbon) in bi-amped configuration.
– Front LFE: Two CB211sl, 21" shallow subwoofers.
– Side LFE: Two CB181sl, 18" shallow subwoofers.
– Side surround: Two CRMS screen system (1×15", 1×8", 1xRBN401 4" pro-ribbon) in bi-amped configuration.
– Rear surround: Two CRMSCompact system (1×12", 1×6.5", 1xRBN202 2" pro-ribbon) in single-amped configuration.
– Front + Rear Height channels: Four CRMSC-SR, 2-way reference surrounds (1×6.5", 1xRBN202 2" pro-ribbon).
– Front + Rear Width channels: Four CRS8 reference surround (1×8", 1xRBN401 4" pro-ribbon).
– Top channels: Four CRMSC-SRIW, 2-way reference surrounds (1×6.5", 1xRBN202 2" pro-ribbon).
– Amplification: Seven Sentinel 4-channel amplified loudspeaker controllers. The Sentinel is a proprietary designed processing/amplification platform which ensures maximum performance from both the Alcons pro-ribbons and cone drivers via Signal Integrity Sensing (SIS). This features four wires routed to and from the loudspeaker, which dynamically compensate for the linear and non-linear effects of speaker cables, resulting in 1:1 natural, tight and accurate bass and mid response.
For more information visit: www.barco.com/residential , www.trinnov.com , www.dreamscreen.no , www.cineramax.com .