Alcons enhances the Dolby Atmos at JT Cinemas
October, 2014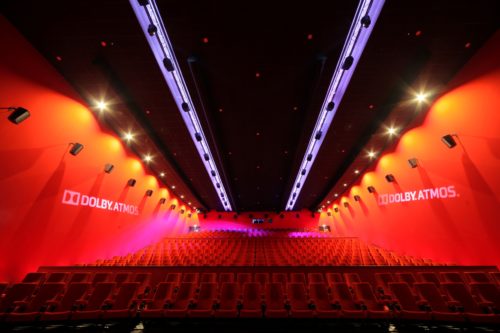 One of the longest-established cinema chains in the Netherlands, JT Cinemas has spent the last few years investing in new sites and upgrading its existing venues to offer Dutch audiences the best possible experience. Working closely with leading cinema solutions provider dcinex, JT has chosen Alcons Audio systems for the cutting edge Dolby Atmos® installation at its Kerkrade site.
JT distinguishes itself from its competitors by having the highest quality cinema technology in its venues. When Dolby approached dcinex to see if any of the company's clients were interested in Dolby Atmos, JT was the obvious choice. Once JT was on board, Alcons pro-ribbon loudspeakers were the ideal choice to help deliver the required audio quality.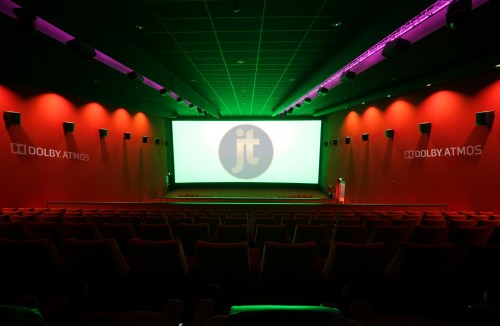 "We believe that innovation drives cinema business and, of course, with digital technology there's been a lot more innovation than before," says Matthew Jones, dcinex General Manager BeNeLux. "One of JT's new build projects was a cinema in Kerkrade, where they wanted something really spectacular. They asked dcinex to find something that would be exceptional… not just good, not just high quality, but nearing absolute perfection.
"Our first thought was to talk to Alcons about facilitating the Dolby Atmos system at Kerkrade. We've known them for a while and we think that, in terms of quality and being able to reproduce audio in the way it's meant to sound, their system is probably the best on the market."
The venue presented a number of challenges, not least of which was its size; with 480 seats, this is one of the larger rooms fitted with the Dolby Atmos system.
"It's much larger than a typical cinema auditorium, which made it difficult to work with conventional speakers or amplifiers. There aren't really the surround loudspeakers available that could provide the amount and quality of sound we needed from a single speaker. So we asked Alcons if they could work with us in designing a custom system," says Matthew.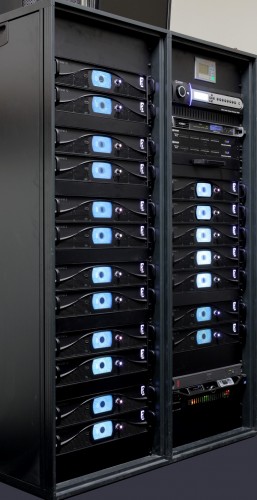 Alcons took 36 of its standard four inch pro-ribbon drivers, plus 12 of its six inch pro-ribbon drivers and mounted them in bespoke, custom designed surrounds, creating the CRS12 and CRS12/60GT units. These were complemented with five three-way, tri-amped CR4 units and eight CB362 twin 18" subs to deliver a solution that was able to produce all of the required SPL, but from within normally-sized enclosures.
Driven by 14 Sentinel3 and 5 Sentinel10 four channel Amplified Loudspeaker Controllers, totalling 76 amp.channels, the result was a system that would suit both the quality and aesthetic demands of JT and the technical demands of Dolby.
"The experience for cinema goers is absolutely fantastic," Matthew adds. "At some of the first performances people got up and applauded the sound. Even if they don't understand exactly what they've heard, they know it's something special and that it's of a very high quality. It keeps bringing them back and so has had a very positive effect on audience numbers."
Such is the success of the installation, it is reported that the new cinema is attracting moviegoers from as far as 300km away.
"The Dolby Atmos system equipped with the Alcons pro-ribbon sound system is, without doubt, the single most qualitative audio system I have ever had the pleasure of experiencing in a cinema. And I can tell you, I have heard a lot of them," comments Albert Jan Vos, operational director of JT Cinemas. "This combination truly allows crystal-clear, high definition audio with perfect intelligibility and no distortion, even at high volume levels, and fully engages the cinema audience in its movie-going experience."
For further information, visit www.jt.nl