Alcons Heads Down Under With Final Link Audio
September, 2022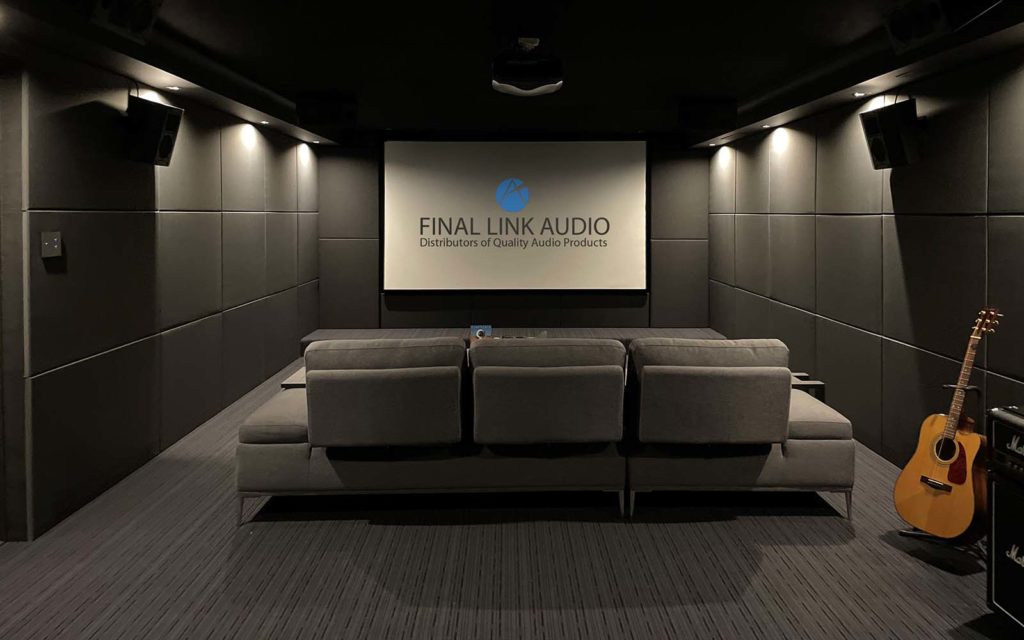 Alcons Audio has appointed Melbourne-based Final Link Audio Pty Ltd to distribute and install its pro-ribbon home cinema systems in Australia and New Zealand.
Established in 1998, Final Link Audio is one of the premier audio import/export and distribution companies in the region. Its head office features a showroom and warehouse despatch facility, while the company also has an 18 channel Dolby Atmos, DTS-X and Auro-3D dedicated home cinema demonstration facility in the city. It also has a custom installation division that services the residential, professional, government and commercial markets.
Pro-Ribbons for residental market
"We have always loved the pro-ribbon tweeters in our HiFi product lines, so we've known about Alcons for years. We have heard nothing but praise for their pro-ribbon products," says Final Link Audio founder Shane Lewis. "When Alcons entered the residential market with the CRMS Cinema Reference Monitor System, we had to investigate further. It was after only a little research that we knew we had to get in contact."
He continues, "Most current, high-end home cinema systems are essentially HiFi speakers, some tweaked to be called cinema speakers and some which are commercial PA speakers trying to be home cinema speakers. Alcons' pro-ribbon design and ALC series amplifier processing is a game changer for the residential sector. These are true cinema products with an exceptional, fine-tuned sound quality that we wanted to be part of."
Professional commercial cinema experience
Recently, Shane and his team installed a full CRMS system in the company's home cinema demonstration room, to showcase how the quality of Alcons pro-ribbon systems can deliver a professional commercial cinema experience, or better, in the home environment. This will also serve as a stepping stone to introduce Alcons CRMS to Final Link Audio's studio and professional mixing customers, where many facilities are moving to the multi-channel immersive formats that the CRMS series excels in.
"Alcons' pro-ribbon design and ALC series amplifier processing is a game changer for the residential sector. These are true cinema products with an exceptional, fine-tuned sound quality that we wanted to be part of," said Final Link Audio founder Shane Lewis
The Alcons configuration of the demo room is as follows: three CRMSCompact 3-way 12″ compact cinema reference monitor systems for L-C-R, four CRMS-SR 2-way 8″ reference surround for side/rear surrounds, five CRMSC-SRHV/120 6,5" compact reference surrounds for overhead, two CRMS-LFE18 18" large-format reference subwoofers and Sentinel3 four-channel amplified loudspeaker controllers to power the system.
"The Sentinel produce endless power and headroom with the clarity of a high end tube amplifier. Together with the pro-ribbon tweeters and quality mid/bass drivers of the CRMS Series speaker system, the outcome is next level for the home residential market that's not seen or heard of from current offerings. If a customer or designer is looking for unparalleled performance, clarity, dynamics, power and drive of a live concert, Alcons is the number one choice!' says Shane.
The goal was to showcase that live sound can be achievable in the home environment with the high end performance of a HiFi system.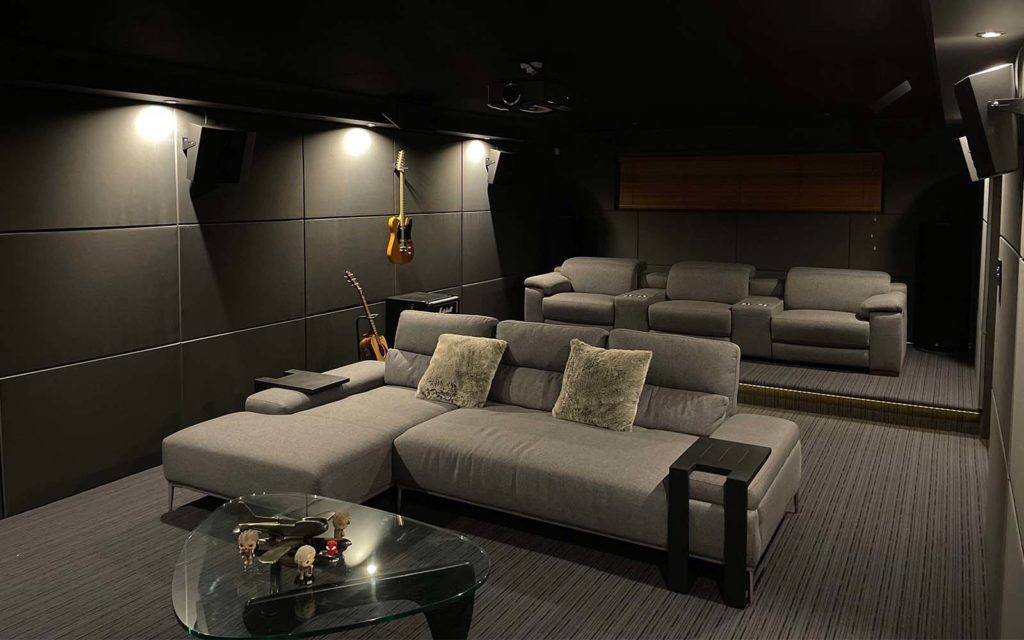 "We can demonstrate in a real home environment, so clients can experience the true dedicated home cinema experience," says Shane. "The pro-ribbon tweeters give a wide spacious, precise soundstage combined with the dynamics and effortless drive of a live show. We don't believe there's another product like the Alcons CRMS series in our market and we are very excited to make it available to our clients. We can see strong uptake for Alcons CRMS and foresee a growing, long-term relationship together."
Growing network Pro-Ribbon Partners for residental market
Tom Back, co-founder of Alcons Audio: "The announcement of Final Link Audio becoming Alcons Audio's next Pro-Ribbon Partner for the residential market, is completely in line with the rapidly growing global demand in our CRMS range of sound system solutions for the residential and studio market. With recent additions Pulse Cinemas in the UK and Moscow based Blackroom we're delighted to add another member to the rapidly growing pro-ribbon family. Since we started in the custom install market a few years ago, we have been establishing a completely new distribution channel in the residential market, besides our cinema, pro-audio and touring channels."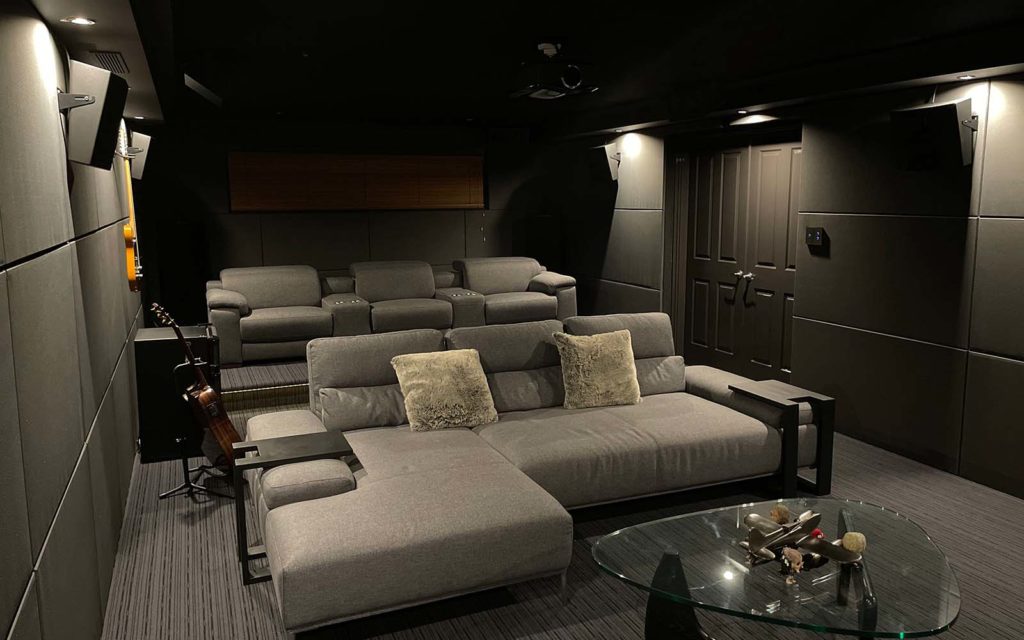 Alcons Audio's pro-audio roots are an excellent base for bringing the quality the professionals are using as reference to the home experience. Users like Martin Garrix STMPD recording studios (Dolby Atmos Premier certified), Hamilton the musical on Broadway and West-End, Alan Parsons tour, Hamburg's Elbphilharmonic concert hall, rock festivals with Iron Maiden, KISS, Def Leppard, but also Google/YouTube screening rooms and Levels Audio and Eikon studios in Hollywood a.o.; all utilizing the exact same transducer, amplification and processing technologies, forming one reference regardless of application, source or audience size.
Tom continues: "Our everyday drive is to do things better, continuing the evolution of sound reproduction, honing and fine tuning our solutions, never satisfied with the status-quo. Shane's an ideal partner to bring the Pro-Ribbon Experience 'Down under'. It's great to share this drive and values based around increasing the customer experience and satisfaction."
For more info: www.finallink.com.au
Related Alcons Products: