Alcons Shifting Into The Next Gear At Prolight+Sound
April, 2015
Dutch audio innovators Alcons Audio will be showing its latest pro-ribbon sound systems at Prolight+Sound 2015, and demonstrating new evolutionary audio solutions.
Taking place from 15th – 18th April at Frankfurter Messe, Alcons Audio is exhibiting on stand G60, Hall 8.0 and will be presenting her latest audio innovations, based around the company's patented Pro-Ribbon technology and its ongoing pursuit of audio perfection.
Highlight of the show is the presentation of no less than 2 new pro-ribbon line-array systems.
The LR28 larger-format line-array is the result of 5 years of development, with the last two years dedicated to beta-testing for the "proof of concept"; Together with continued extensive R&D, which has led to another 2 patents pending on the already 4 existing patents, the valuable user-input of world's top engineers has led to the final design of the LR28. This flagship system marks an important advance for the company within the concert touring and large-scale installation market.
Also in the spotlights on the Alcons stand is the second new line-array Alcons is presenting; This is a smaller format line-array system, in the "sub-compact" range; The new system features a symmetrical acoustical lay-out, with 3-way component configuration and a precise pattern control in both horizontal as well as vertical plane.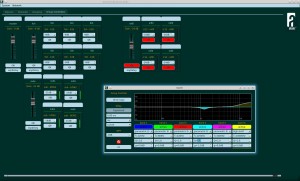 Loaded with the multiple-patented RBN proprietary pro-ribbon transducers, with unmatched flat SPL up to 20kHz, the new Alcons pro-ribbon line-arrays set new benchmarks for throw, projection control and non-distorted linear sound response in their respective categories.
The long awaited remote control for the Sentinel amplified loudspeaker controllers is another novelty at Alcons' Frankfurt presence. ALControl™ is the Alcons-proprietary ALC control software protocol, to control and monitor multiples of Sentinels; Grouping, overlay control of equalizing, delay, as well as real-time monitoring, auto-discovery a.o. ALControl™ can be run from both Mac and PC platforms.
As well as the company's stand, Alcons is hosting off-site demonstrations of its systems on the first two days of the show, Wednesday 15th and Thursday 16th of March.
All four acoustic formats of Alcons products will be demonstrated – the V-series point-source monitor, the Q-series line source column, L-series line arrays and R-series point source array.
The demonstrations will take place in time slots each of the two days; those wanting to attend should register their interest at the Alcons stand, Hall 8, stand G60, or before the show on info@alconsaudio.com.
For a glimpse of the future of professional sound reinforcement, visit us in Hall 8.0 on stand G60.