CRMS Series Exceed The Highest Expectations
August, 2019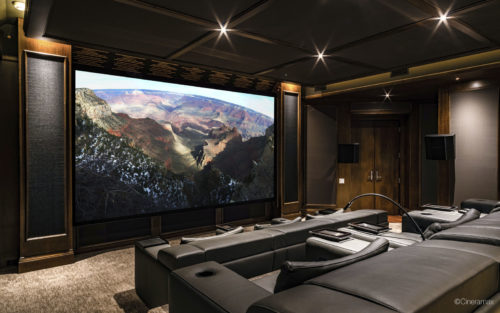 An audiophile for over 35 years, Florida-based Brad Scott has been an aficionado of exceptional home theater systems for the past two decades. Having been introduced to Alcons Audio pro-ribbon systems a few years ago, Alcons CRMS Cinema Reference Monitor System speakers were the only choice when his home theater was comprehensively remodeled and upgraded.
Peter Montoulieu, proprietor of high-end home cinema design/installation company Cineramax, introduced Brad to Alcons systems at the US InfoComm trade show several years ago. Taken to a private off-site demo by Alcons co-founder Tom Back, Brad was so impressed that, in his words, "One listen, and I knew they would be the speakers for my new home theater."
"From my first listen, I knew that the Alcons pro-ribbons solution was the best I had heard. Subsequent listening sessions, and comparing to other speaker setups, only confirmed it,", Brad Scott
Indeed, so impressed was Brad that the remodeling of his facility included a brand new room, especially engineered to take advantage of the Alcons CRMS speakers that he had chosen.
"After that first introduction, I heard Alcons pro-ribbon systems at multiple trade shows and in other demo room setups. From my first listen, I knew they were the best I had heard. Subsequent listening sessions, and comparing them to other speaker setups, only confirmed it," says Brad.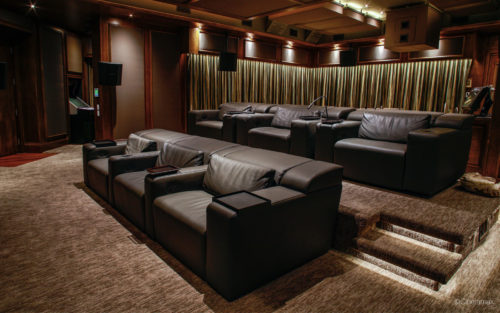 Peter worked closely with Brad on every aspect of the design, choosing a full 3D audio system comprising three Alcons CRMS mkII cinema reference monitor system, eight CRMS-SR reference surround and ten CRMSC-SRHV/90 compact horizontal/vertical reference surround, with the system powered by six Sentinel3 amplified loudspeaker controllers.
"Peter was invaluable. He introduced me to all the critical components in my system – Alcons pro-ribbon technology, Trinnov processors and the SIM2 HDR DUO projection system, as well as the 5D theater concept of 3D movie, 3D sound (Atmos, DTS:X, Auro 3D) and D-box cinematic motion," says Brad. "He spent a lot of time on room treatment, speaker placement design and even worked with CINEAK designing the theater chairs.
Peter also brought in several key people to help with the design and execution of the system. Among them were Alan Gouger for video / projection and Walter Fortmüller, who was closely involved with the system's design, implementation, configuration and calibration.
"Walter's company – Walter Fortmüller SAVO (System Audio Video Optimization) – provides end-to-end services for both professional and high end residential markets. I first met him at CEDIA 2016 in Dallas," says Brad. "He has calibrated numerous Alcons systems, many with Trinnov, and was involved with my design from the start."
With a wine cellar and bar at the back, plus 32 feet of sliding hurricane glass doors that open to a panoramic lake and golf course view, the sound could have been compromised. But with such an expert team at work, this was never likely to be the case. Indeed, Brad's room must be close to the ultimate for any home theater enthusiast.
"Being a multi-purpose space usually means cutting corners and making compromises. But, after final tuning, this system performed among the best dedicated and purpose built rooms I have ever done," says Walter. "My job is to bring all the system aspects and components together, to find proper balance and create a unique experience. Having access to such a system with Alcons components for that tuning process is like a chef who selects the finest ingredients to come up with a very special meal."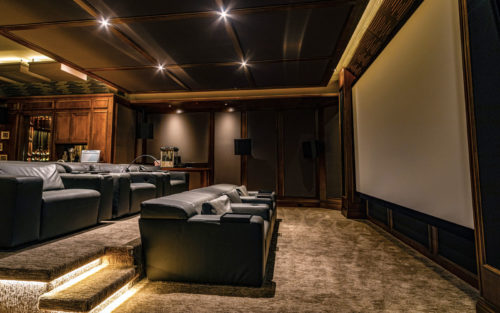 He continues, "The system is very revealing with pin point accuracy, yet it's extremely natural and musical. The illusion of putting you into various 3D acoustic environments and spaces is extremely convincing. The dynamic headroom is off the charts and the bass response is outstanding throughout the entire listening area."
Brad is every bit as enthusiastic about the system – highlighting that the Alcons CRMS pro-ribbon system has exceeded even his very high expectations.
"It's the best audio system I've ever heard for both movies and music, it has it all – dynamics, clarity, imaging, no distortion and it produces zero ear fatigue.", Brad Scott
"It's the best audio system I've ever heard, for both movies and music," he says. "It has it all – dynamics, clarity, imaging, no distortion and it produces zero ear fatigue. It delivers major bass impact, but it never muddies the lower vocals. With the curtains drawn, the room sounds as good as any dedicated studio. Many with years in the industry who have heard it agree."
"Brad is a very experienced and knowledgeable AV enthusiast," Walter adds. "After fine tuning it, the biggest reward I could ask for was seeing the emotional impact the system had on him. The reward from seeing this long journey coming to fruition in such a way was exceptional."