Shipping Has Started Of The LR18/120
September, 2019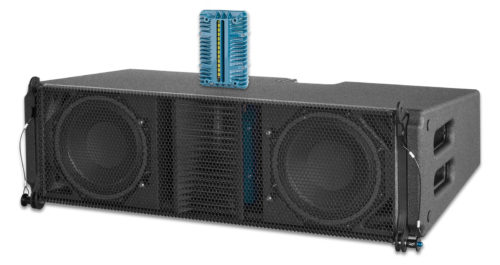 The LR18/120 is a 3-way, "compact-mid-size" format line-source sound system, combining a 120-degree wide dispersion high sound quality with high dynamic SPL capabilities and throw.
By implementing Alcons' pro-ribbon technology for mid and high frequencies, a very fast impulse response with up-to-90% less distortion is achieved. This enables the LR18/120 to offer an intuitive linear response, with optimal intelligibility and non-compressed identical tonal balance at any SPL, under a remarkable gain-before-feedback performance.
The all-natural cylindrical wavefront of the multiple-patented, purpose-designed Alcons RBN702rs 7" pro-ribbon transducer and the acoustically and electronically symmetrical component configuration cater for a very coherent pattern control in both the vertical as well as the horizontal plane, without any distortion-inducing horn constructions.
The pro-ribbon's power handling of 1500W (200 milliseconds, which is 10x the industry standard) and RMS-to-peak power handling ratio of 1:15 (common industry ratio is 1:2) are another asset to the system's category-leading throw and dynamic headroom reserve.
"In the LR18/120, we've been able to get a very wide, seamless 120-degree coverage up to the highest frequencies beyond 20kHz, while maintaining the unique projection properties of the pro-ribbon line-arrays", Philip de Haan, Alcons Audio
Completing the 3-way configuration for mid-frequencies, is a high-efficiency, horn-loaded 6.5" midrange transducer, coaxially mounted behind the HF driver; The LF section consists of 2 reflex-loaded 8" woofers with oversized 3" voice-coil Neodymium motor-structure; These surpass the output of even larger drivers, while maintaining a smaller face print.
System drive is taken care of by 2 channels (bi-amp) of the Sentinel amplified loudspeaker controller, with LR18-specific drive processing and feedback for each array configuration; The presets now also include Alcons' "VHIR processing" with phase-matching with any Alcons system.
The Signal Integrity Sensing™ pre-wiring ensures dynamic cable/connector compensation between the LR18/120 and ALC; This offers a 1:1, undistorted natural sound reproduction, regardless of cable length and amplifier impedance load (system damping factor 10.000).
The rigging system enables angle-setting on the cabinets without lifting the array, resulting in safer and faster set-up with minimal handling and a Working Load Limit of 24 cabinets under 10:1 safety.
The LR18/120 is an addition to the LR18 line-array system family; This series consists of the LR18 line-array module in 90-degree horizontal dispersion; the LB18, the double 8" low-mid array extension of the LR18; and the LR18B, the accompanying flying / stacking subwoofer with new generation 18" woofer.
Array configurations with these components can be simulated in the Alcons Ribbon Calculator (ARC), Alcons' high-resolution 3D simulation program.
Philip "Dr. Phil" de Haan, Alcons' head of R&D: "the development of the wide-dispersion LR18 has been a direct result from requests from our The Ribbon Network (Alcons global dry-hire rental cooperation network) members group. Over the last year, we've been working on different dispersion patterns for all our products with our pro-ribbon transducer technology, resulting in different patent-applications."
Responses from LR18 users in the field have unanimously been positive, with recent deployments at Trondheim Rocks (Kiss, Def Leppard, Iggy Pop), Parken festival Norway, Alan Parsons project tour, Off festival Poland, Nigel Kennedy, Brian Ferry, Elbphilharmonie Hamburg, Suzanne Vega, Robert Plant, Sting, Patti Smith, Iggy Pop, A-Ha, Block Party, The Hives, In Flames, Lzzy Hale, Turbonegro, Luke Elliot, High as a kite, Underworld a.o.
Phil continues: "In the LR18/120, we've been able to get a very wide, seamless 120-degree coverage up to the highest frequencies beyond 20kHz, while maintaining the unique projection properties of the pro-ribbon line-arrays; The unique coherent vertical dispersion, eliminates destructive interference, resulting in optimal high frequency throw and wind-stability. This brings the renowned Alcons HiFi sound quality at concert SPL's to a wider audience; Or as we say "WYMIWYG, What You Mix Is What You Get" !".
For more information, visit the LR18/120 product page HERE