Haarlem Jazz hands it to Alcons
November, 2014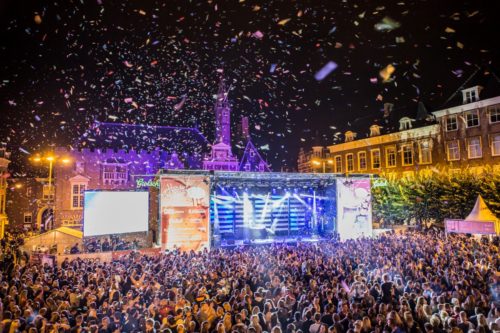 Jurjen Hesseling – founder of Dutch technical design and production company Jurlights – and Tom Back, co-founder of Alcons Audio, both have a single-minded 'no compromise' attitude towards delivering audio excellence in any live situation. 2014 was the third year that Jurlights deployed Alcons systems on the annual Haarlem Jazz Festival, with both companies keen to continue tweaking the systems to deliver the ultimate in outdoor audio quality.
The festival takes place over three days in August, with a main outdoor stage in the town's central market square, the Grote Markt. Smaller outdoor stages are housed at nearby Klokhuisplein (Clock House Square), Oude Groenmarkt (Old Greenmarket) and Nieuwekerksplein (New Church Place). This year's edition featured artists like Oleta Adams, VanVelzen, Eva Simons a.o.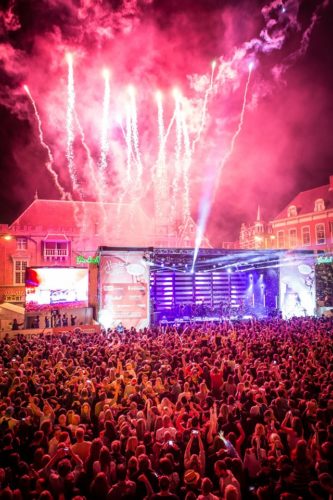 Jurlights supplies and manages the technical production for the two main area's festival and Jurjen was happy to make it a Haarlem hat-trick for the company's Alcons systems.
"The festival was established many years ago, but recently had some difficult years. Three years ago we were approached by new organisers to help get it back to where it belongs, as one of the Netherlands' better Jazz festivals," he says. "It had been on our 'bucket list' for many years, so we were happy to get involved."
The company deploys two Alcons systems on the festival, which in 2014 comprised an LR24, 3-way large-format pro-ribbon line-array, LR16 2-way compact pro-ribbon line-array and BC543 triple 18" cardioid subwoofer rig for the Grote Markt main stage, which attracts audiences of around 5000, plus an LR16, BF362 double 18" sub and VR12 pro-ribbon compact monitor system for the Nieuwekerksplein stage.
"The LR24 system is ideal for the Grote Markt stage, because there is a large area to cover but we have to keep the SPLs down. It needs to have even sound coverage, but at a comparatively low level," says Jurjen. "The stage isn't very high, so we could only fly eight LR24 cabinets per side this year. But with the LR16 infills it easily fulfilled what we needed. Plus, being in the centre of the town, it helps that we can focus most of the energy on the crowd, instead of surrounding buildings.
The on-site Jurlights team comprised production manager Govert Hilterman, creative director Menno Broere and mix/system engineer Niels Koomen. Their jobs were aided by the Alcons systems being exceptionally quiet to the rear of the arrays.
"Keeping the sound focused is helped by the rear of the PA being really quiet, even the low frequencies. It also makes working on stage much better and easier to hear what's going on in the monitors," says Niels. "The rigging system is also very well designed and convenient to use, plus the overall size of the system means that it is easy to transport and set up. Everybody is surprised by its compactness!"
Another advantage of the Alcons system is that it can handle any kind of music equally well; "Some of the stages, like Nieuwekerksplein, are all about true jazz. But the organisers are aware that they are catering to a wide demographic. So the Grote Markt stage features many different kinds of music to cater for everyone, especially later in the evening when there's live pop and dance music to please the younger crowd," concludes Jurjen. "The BC543 cardioid sub makes it sound great, the bass is really tight, but also has the required response in the lower octaves."
"Every visiting sound engineer has been impressed by what they've heard. The Alcons systems are very responsive and delivered a linear sound that is very open and with great definition, just as we knew it would."
For more information visit: www.jurlights.com and www.wymiwyg.info