Pro-Ribbon Immersive Experience @ CEDIA 2023!
October, 2023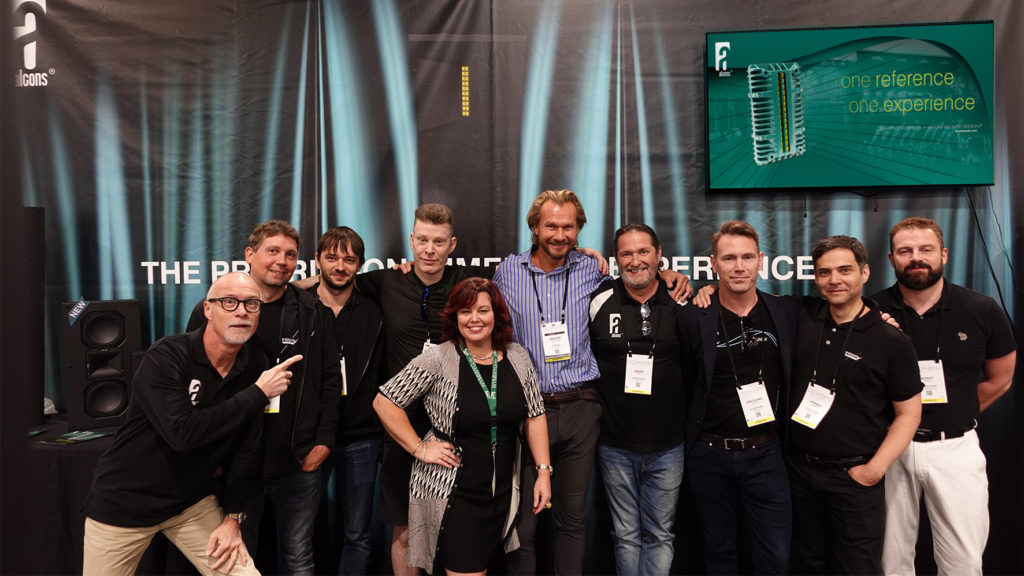 The 2023 team in 2023: Tom Back (Alcons Audio), Antoine Selle (Trinnov), Arnaud Destinay (Trinnov), Nigel Archer (Absolute Ultimate AV), Pauline Ortiz Y Pino (Alcons Audio), Walter Fortmüller (Zenzaru), David Rahn (Alcons Audio), Jon-Eivind Lygren (DreamScreen), Arnaud Laborie (Trinnov), Benoit Muñoz (Trinnov), (Left-to-right)
Thank You For Visiting The Pro-Ribbon Immersive Experience!
After a two-year absence from the CEDIA show, Alcons Audio presented the much-anticipated return of the award-winning Pro-Ribbon Immersive Experience, leading to many "best of show" comments from visitors.
The Pro-Ribbon Immersive Experience featured a hybrid Dolby Atmos 11.X.6 system;
By utilizing the exact same transducer technologies throughout the system, a seamless immersive experience was obtained, with the crystal clear ultra-low distortion Alcons pro-ribbon signature sound.
This year's Experience partners were Trinnov for processing, Absolute Ultimate AV for projection and DreamScreen for the screen technology, presented by Walter Fortmüller from Zenzaru.
The components of the 2023 CEDIA Pro-Ribbon Immersive Experience were:
Several YouTube channels visited the Alcons demoroom: This is what Youthman experienced: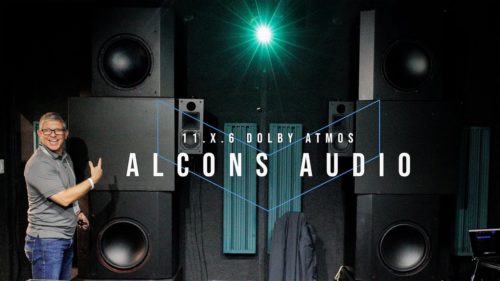 From creation to performance; One reference, One experience
The audio system was a hybrid 11.X.6 immersive surround configuration, comprising 25 Alcons CRMS series pro-ribbon loudspeakers, driven by 28 channels of Sentinel amplified loudspeaker controllers with "lossless" AES3 digital signal distribution and VHIR™ phase processing.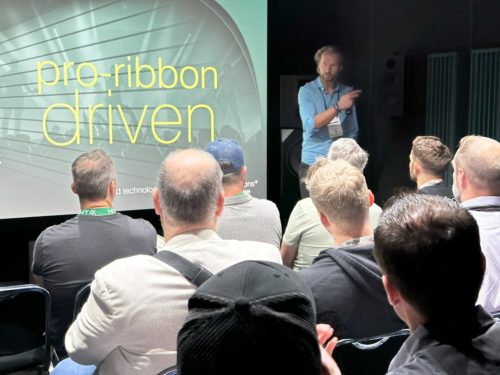 Special feature of this show's system was the double bass array, consisting of 8 CRMS-LFE18 high-output 18" subwoofers, driven by Trinnov's new WaveForming™ technology. Thisconfiguration, painstakingly tuned by Walter Fortmüller of Zenzaru, further enhanced Alcons' unique signature sound experience, with ultimate high fidelity and dynamic output, under ultra-low distortion.
The video part of the Experience comprised a Christie Griffyn AS provided by Absolute Ultimate AV, with MadVR ENVY video processing and a DreamScreen UltraWeave projection screen.
Alcons pro-ribbon sound systems are in use at Bleat post-production London, Levels Audio Hollywood, Hamilton the Musical, Walt Disney, NBC Universal, Lucasfilm, Google/YouTube, EIKON group Los Angeles, but also at CMA Fest Nashville, Kenny Chesney US tour (Robert Scovill FOH) en Brandi Carlile US tour (Sean Quackenbush FOH), American Legion Hollywood, Elbphilharmonie Hamburg a.o. and a fast-growing number of reference home theatres and studios around the world.