CEDIA Pro-Ribbon Immersive Experience Again A Highlight
October, 2017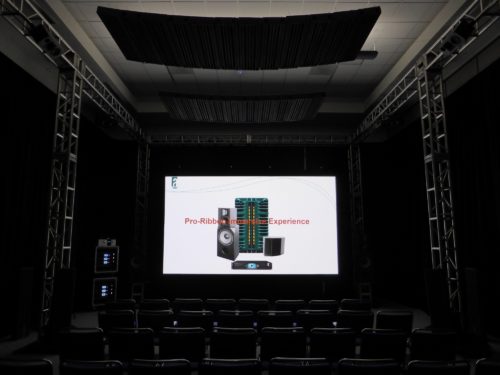 The annual CEDIA show is a highlight of the North American home technology market, giving manufacturers the opportunity to showcase the best that the industry has to offer. Attending for the third year, the Alcons Pro-Ribbon Immersive Experience again showed what is possible in home cinema sound, being described by one commentator as "one of the very best demos I attended."
This year's CEDIA show took place at the San Diego Convention Center from 7th – 9th September. Alcons worked closely with Barco Residential, Trinnov and Screen Acoustics to showcase a Pro-Ribbon Immersive Experience that featured further refinements to previous years.
Having received a lot of praise at the CEDIA show in both 2015 and 2016, this year's Alcons demonstrations were described by Mark Henninger of AVS Forum as "one of the very best demos I attended at CEDIA 2017."
The show also saw the new Alcons CRMSC-SRHV surround speaker making its public debut. Delivering exceptional clarity and power from a compact, visually unobtrusive unit, the CRMSC-SRHV can be used in both horizontal and vertical arrangement, thanks to its rotatable waveguide with patent-pending 90 x 60 degree dispersion.
The complete system consisted of 3x CRMS mkII as LCR front system, with 2x CRMS mkI for Left and Right wide channels; 4x CRS8 were used for side surrounds and 2x CRMSC as rear surrounds. For LFE 2x CB211 (21") were used on front and 2x CB181 (18") as side subs. The height layer consisted of the new 6x CRMSC-SRHV wide-dispersion surrounds, in front / side/ rear configuration. All systems powered and controlled by Sentinel10's, with a total of 26 channels, of which 20 were driven digitally (AES3) and 6 analog; This was taken care of by a Trinnov Altitude32 in special hack-mode.
Projection was served by a Barco Loki projector, on a specially-masked Screen Acoustics (DreamScreen) hybrid (knitted / woven) screen, excelling in audio response with extremely limited impact on frequency response.
"We have attracted better comments from visitors each time that we have attended the CEDIA show," says Alcons Audio co-founder Tom Back. "The Alcons Pro-Ribbon Immersive Experience was a major highlight of the 2016 show and this year we refined the system to deliver even better results. A larger (meeting!) room meant a better immersive path length lay-out, but also required more acoustical treatment."
"Although, unfortunately, the arrival of Hurricane Irma meant that a number of prominent industry media had to cut short their visit, we and our partners again received an overwhelming number of 'best of show' comments from visitors."
For more information, please visit www.barco.com/residential, www.trinnov.com and www.screenacoustics.com