Red Bull Hangar7, Salzburg Austria
Nestling among the hangars of Austria's Salzburg Airport is a unique glass and steel building called Hangar-7. Its concept, design, contents, atmosphere and experience are quite unique. Owned and run by Red Bull it houses the Flying Bulls collection of historic aircraft as well as exhibits from art and motor sports as well as the renowned Ikarus Restaurant. The events held in Hangar-7 range from "Wednesday Nights," with bands like the Gypsy Kings, Buena Vista Social Club and Tango Argentino performing, to photo and film shoots or presentations for the likes of Porsche, Audi, VW and Renault.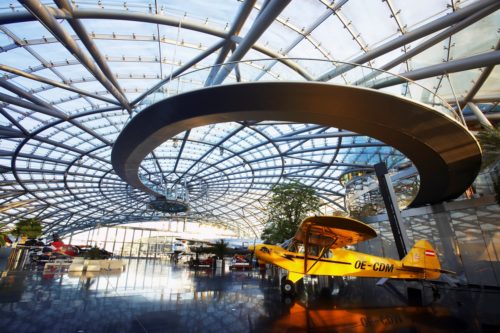 From the outside Hangar-7 is reminiscent of a glass aircraft wing. From inside, it stretches across the Flying Bulls fleet with a glass ceiling. Taking two years to build it opened in August 2003 with the superstructure covering 100m/328 ft by 70m/229 ft and a ceiling height of nearly 14,5m/47 ft. Not surprisingly the acoustics in the building are something of a challenge with almost no helpful material to absorb sound and a reverberation time of up to 8 seconds. Meeting the task of putting a world-class audio system together for Hangar-7 went to the Vienna based installation and distribution company Pro Performance.
"There is basically no difference in sound quality when working at very low or very high volume levels…. Even a whisper could be understood at the other end of the hangar." Wolfgang Sauter, CEO Pro Performance
With an impressive array of jobs including work for clubs such as the renowned Flex, Sass and Opernpassage, or the Skykitchen in Vienna as well as a host of designs for theatres, churches and hotels throughout Austria, Pro Performance is definitely going places.
After the hanger opened the acoustics in the space soon became a talking point in the Austrian and German Pro Audio scene. Essentially because of the amount of reflective surfaces, with almost no absorbent material and long reverb time, it was a space that was very difficult to work in.
In the next few years an assortment of German and Austrian rental companies worked in the space and according to Wolfgang Sauter of Pro Performance none found an ideal solution for the venue. He comments: "Any line-array system chosen for events tended to project energy onto the ground and back into the hangar." Sauter believed he could do better. And that is where Alcons Audio, the Dutch sound system manufacturer, whose speakers are in use today in Hangar-7, came into the picture.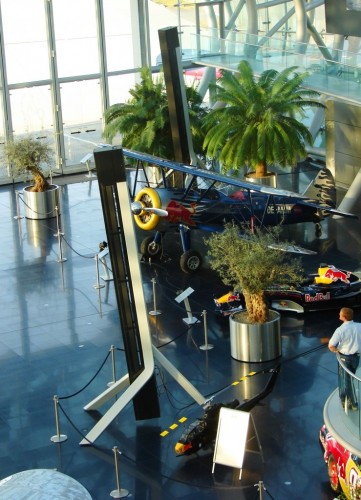 Audio tests in the hanger were arranged with a pair of Alcons QR36 speakers and then with columns of four QR36s, flown just above ground level, combined with an Alcons LR14B bass speaker positioned on the floor. Used at several events this proved to outperform any other system heard before in the venue and a final decision was made to build four custom-made movable speaker towers, almost six metres (5,80m) high.
Sauter comments on the decision to go with the Alcons QR solution: "They have an open sounding quality, even at high SPL, and give you clean, accurate and precise listening." He continues. "Something I also really appreciate about the character of Alcons' Pro Ribbon technology is that there is basically no difference in sound quality when working at very low or very high volume levels. At Hangar-7 we did most of our measurements during the night. The acoustic at that time is absolutely amazing when it's totally quiet. We could test the QR towers quite well at very low levels then and it was just stunning, how sound would travel throughout the Hangar. Even a whisper could be understood at the other end of the hangar."
The speakers are arranged in four vertical towers each consisting of four Alcons QR36s and one QB363 at the bottom. Electronics and amps are included within the towers placed on top of the speakers. Each tower weighs more than 1200Kg but move easily on three wheels to wherever they need to be positioned. They are connected to the audio-network via fiber-optic cables with 12 breakout boxes including power installed around Hangar-7 to offer connection at any position.
Powering the speakers is an assortment of Alcons ALC2 and ALC4 amps with SDP processing cards. For use on the buildings' upper levels, where the restaurant and bar is situated, six Alcons Audio SR9 speakers are positioned as balcony fills.
Since the QR36s produce a coherent cylindrical wave front and are capable of a horizontal dispersion of 90-degrees up to 20kHz, this results in an extremely wide and homogeneous coverage regarding frequency and SPL-response, especially when all four towers are used at the same time. The towers can be placed where they are needed, then mechanically tilted between 0-15 degrees, as far as needed to not get any disturbing reflections from opposite walls. Sauter comments on the speech intelligibility in the hanger. "We did some measurements on STI, measuring one tower and only on axis. Here we had values of 0.77 for male and 0.79 for female at 15m and 0.65 for male and 0.67 for female at 45m on axis."
Throughout the consultation and design process Alcons Audio were giving advice and feedback on Pro Performance's work. Tom Back Managing Director of Alcons Audio is impressed with the way things have turned out. He says: "Wolfgang and his team did an excellent job in convincing Red Bull about the Alcons solution. I have been in the hanger a couple of times and the whole system is performing way beyond our expectations with the line-source columns."
Following this installation, 2 further rooms of the Hangar-7 were outfitted with Alcons systems.
More information on www.hangar-7.com