CATRA theatre Moscow Russia
As one of Russia's most famous theatres, the Central Academic Theatre of the Russian Army (CATRA) needs to keep its technical specification up to date in order to satisfy the continually higher expectations of audiences. A recent upgrade has seen the installation of an Alcons Audio system, which has achieved the difficult balance of being heard but not seen.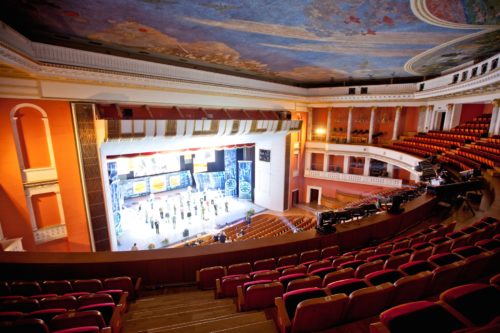 Founded in Moscow in 1929 by the political board of the Workers' and Peasants' Red Army to entertain servicemen and officers of the Red Army, the theatre was built in 1939 in the shape of a five-pointed Soviet star. Originally called the Central Theatre of the Red Army, it is considered an architectural masterpiece of the Stalinist era.
Designed to stage large-scale events, its main auditorium seats 1520 spectators. Productions have even included having cavalry and tanks on the stage, which is claimed to be the biggest in a European theatre.
"High level SPL with no distortion and not impacting on the aesthetics and historical structure of the theatre." Natalya Kondrat of LTM Music Company
Nowadays its productions are a little less ambitious, but CATRA is still one of the country's favourite venues, staging performances of Russian and foreign theatre, musicals, classical and rock concerts. It has won the prestigious Crystal Turandot for the Chekhov play The Lower Depths and also hosts games from the country's humorous – and exceptionally popular – Klub Vesyólykh i Nakhódchivykh (KVN) league.
"The existing audio system was installed in the 1990s and it no longer met modern audience expectations. There was a particular issue with loud live music events, which modern systems are expected to cope with without any distortion," says Natalya Kondrat of the LTM Music Company, who supplied and installed the Alcons system.
"Because of the building's architectural significance, there were very limited areas where we could install equipment. We consulted extensively with the theatre and suggested an Alcons system. We did a demonstration and were able to prove that it would fulfil all the required aims of uniform coverage, high level SPL with no distortion and that it could be installed while not impacting on the aesthetics and historical structure of the theatre."
The latter was achieved by installing the entire Alcons system within the proscenium arch. It comprises left and right arrays, each including a mid/high frequency column and a low frequency column. 14m high mid/high columns each contain QR36, QM36, QR18 and QM18 units, with 12m high bass columns featuring QB363 subs. In total the system includes 28x 18" pro-ribbon drivers, 84x 6.5" M/F drivers and 26x 12" bass drivers.
"With the QM18s and QM36s extending the array length and enhancing the nearfield performance of the system, the entire audience is sitting on axis, everywhere from the front rows of the stalls to the back of the balcony," says Alcons co-founder Tom Back. "As well as offering extreme projection control and superior coupling and coherency of the wavefront, ensuring that every seat in the house enjoys exceptionally high quality sound, the system also goes all the way down to 32Hz."
"The Alcons team did a lot of work to ensure that the system satisfied all of the requirements. Thanks to its compactness and its principle of vertical installation, we could supply a system that delivers high power and very high quality sound for every type of production, but which is effectively invisible," says Natalya. "The theatre staff are 100% happy with it, it has fulfilled everything that has been asked of it, and more!"