Releasing boundaries with CRS8 surround
April, 2013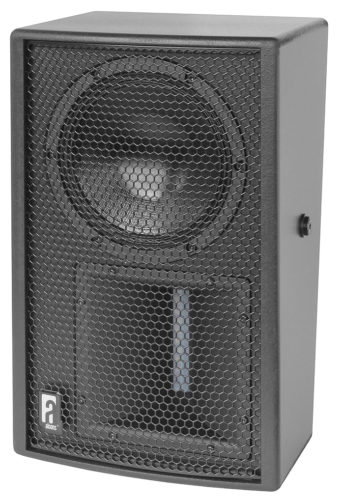 The arrival of Digital Cinema has brought new challenges for sound systems: Simply using higher power versions of existing speaker designs is not enough to enhance the Digital Cinema sound experience. Speech, music and effect should be reproduced with finest non-compressed detail and fullest digital dynamics.
As addition to Alcons' evolutionary Digital Cinema sound system program in the surround domain, the company introduces the CRS8 high-fidelity pro-ribbon surround system.
The CRS8 is a 2-way passive-filtered full range loudspeaker, combining an exceptional clarity and intelligibility with lowest distortion and an unusually high dynamic range, offering the most realistic sound reproduction possible.
The CRS8 system configuration consists of one RBN401 pro-ribbon driver for MHF and a vented reference quality 8" mid-bass for LF reproduction.
The RBN401 driver is a proprietary-designed and multiple-patented pro-ribbon mid/high frequency transducer; Due to the low weight moving mass, this transducer reproduces sound with up to 90% less distortion than compression driver designs.
As a result of the "direct-drive" principle of the pro-ribbon transducer (without a compression mechanism), the system has a linear response, with the same tonal balance at lowest as well as highest sound pressure levels.
In addition, the very high 800W peak power handling of the RBN401 pro-ribbon driver offers a 1:16 RMS-to-peak power ratio, enabling true Digital Cinema dynamics from 1kHz. to beyond 20kHz.
By utilizing the exact same RBN401 transducer as featured in Alcons' pro-ribbon screen systems, a unique voicing matching between screen- and surround system is realized, resulting in an exceptionally wide and deep sound stage throughout the entire listening area.
This makes a striking difference in multi-channel immersive surround sound systems.
To optimize the amplifier loading in immersive surround systems, the CRS8 is also available in 4 ohms impedance.
The "Signal Integrity Sensing™" pre-wiring compensates for long cable and connector resistance between CRS8 and ALC amplified loudspeaker controller; This brings the tightest and most accurate mid and bass response regardless of cable length, down to even the lowest system impedance.
The 10-degree slanted baffle together with the upside-down speaker arrangement and the pro-ribbon's response characteristic in the vertical plane, caters for a very smooth LF/HF blending, for both near and far located seats (on-axis as well as off-axis).
The enclosure design, together with the different mounting options provides for low profile wall mounting; whereas the Architect Colour Option™ make the CRS8 blend in nearly any interior colour design.
Typical applications include surround sound system for premium Digital Cinemas, performing-arts theatres, high-end Home theatres, demanding screening rooms, as well post-production studios.
As a result of Alcons' tight manufacturing standards, all CRS8 cabinets are within "matched pair" tolerance.
Click here for more information on Alcons' C-series