Sentinel keeps an eye out on Alcons systems
July, 2015
The remarkable audio quality of Alcons' pro-ribbon technology is making significant inroads in the professional sound reinforcement market. But in order to get the very best from their systems, every component of the signal chain has to consistently deliver. It is with this in mind that Alcons has developed Sentinel, a range of amplified loudspeaker controllers that precisely match the requirements of its loudspeakers.

The genesis of Sentinel came from Alcons engineers doing thorough, calibrated 1:1 listening tests between the company's current ALC series amplified loudspeaker controllers and the products from various leading amplifier brands.
"We compared sound quality on stereo imaging, depth, width and resolution," says Alcons co-founder Tom Back. "Most people in the pro audio world would think that each amplifier of a given rating is the same, but we found that there are large differences between each model and the various technologies used."
"Of course, we did further testing on output, thermal behaviour, user interface, integrated processing platforms and serviceability, which also revealed lot of differences. Overall, with such high-resolution transducer technology as Alcons pro-ribbon, the differences were too big for us to ignore."

The company could have made an OEM agreement with an existing amplifier manufacturer, but to achieve a unit that would allow its systems to deliver everything modern audio professionals demand with absolutely no loss of audio quality, Alcons decided to develop its own, proprietary platform.
The Sentinel features 4-in/4-out input matrix routing, with internal 96kHz sampling rate.
Due to the custom-designed sample-rate conversion, Sentinel accepts any signal between 44.1 up to 192kHz digital AES3 format.
The future-upgradable powerful DSP engine enables minimal latency during processing of even the most complex (IIR, FIR) algorithms.
DSP features include parametric equaliser (incl. shelf, notch, high/low-pass) and delay per channel, factory presets for all Alcons systems and configurations a.o.
The "linear" preset enables the Sentinel to be used with third-party speakers, while maintaining full DSP functionality.
The 4 independent, patent-pending Class D amplifier stages and 2 redundant switch-mode power supplies all feature a microcontroller, allowing all parameters to be monitored and guided via the internal communication network. This means maximum operating efficiency (even with one power supply shut down) and extensive status/application logging can be maintained at all times.
The modular construction not only facilitates future hardware upgrades for i.e. more powerful processors (if future needs be), but also offers easy "in-the-field" servicing, bringing potential downtime to an absolute minimum.
The Signal Integrity Sensing™ (SIS) circuit dynamically compensates impedance effects in long speaker cables and connectors, resulting in a tight sub and bass response, matching the fast-transient response of the pro-ribbon mid-high frequency reproduction. This circuit doesn't require any manual presetting, but operates dynamically, on SIS™ pre-wired systems.
The Sentinel is operated by a Linux-based main controller, through a large, intuitive colour 480 x 272 pixel TFT touch screen and RGD-LED rotary encoder.
Remote control requirements are served by ALControl™,  Alcons-proprietary ALC control software protocol, to control individual or clusters of Sentinels, to be operated from both Mac and PC platforms; Also control from mobile devices is possible through a VNC app.
Spare module slots and two RJ45 connectors enable optional audio-over-network control.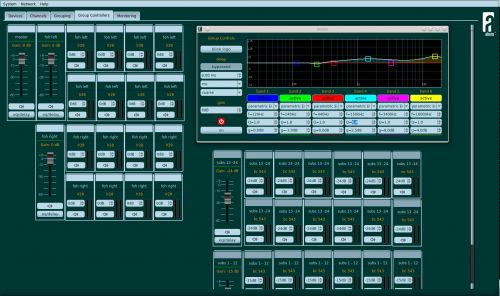 Sentinel comes in a 2u rack mount package in two formats: 4x 750W (Sentinel3) and 4x 2500W (Sentinel10) output, weighing just 8,8kg/19.4lb and 11,6kg/25.5lb respectively.
"The main focus in the development of the Sentinel range was to obtain an 'audiophile-grade' signal path and a surplus of headroom under any circumstance, to get the maximum performance out of Alcons sound systems," says Tom. "It is designed to offer the highest possible sound quality and most realistic sound experience, at any sound pressure level, in any application.
"It has meant that our R&D path took longer than the 'short cut' of an OEM agreement, but it has definitely paid off. We can truly say that the combination of Alcons sound systems and the Sentinel platform raises the bar for maximum obtainable sound quality in sound reinforcement. It sets new standards of Hi-Fi sound at concert SPLs. And, most importantly, it's a future-proof investment !"