"United In Music" With Alcons At 15th Frankenberg Open Air
October, 2022
Recently, the fifteenth edition of the Frankenberg Open Air Classic took place in Frankenberg, North Hesse, Germany. Auditiv GmbH from Kassel was in charge of the sound reinforcement of the open-air event themed "One world – United in Music". They chose Alcons pro-ribbon system for crystal-clear sound and excellent coverage.
The music ensembles of the Edertal School in Frankenberg and the Christian Rauch School in Bad Arolsen treated over 1,000 spectators to a varied classical music program on the open-air grounds of the Beil car dealership. The orchestras, choirs, and big bands of about 200 students from both schools were supported by the brass ensemble of the Kassel State Theater.
The program included works by Brahms, Dvořák, a symphonic suite from Wagner's Tannhäuser and Beethoven's 9th Symphony, as well as modern titles such as the Scorpions classic "Wind of Change" or Leonard Cohen's "Hallelujah". A peace song by the Ukrainian vocal class of the Christian Rauch School with Helen Zaloga was one of the most touching moments of the evening. John Lennon's "Imagine" also went down well with the audience, who lit up their cell phones to the rhythm of the music.
LR14 line-array on each side
FoH engineer Rolf Dressler, who has been managing the sound of the event for ten years, used nine of the compact LR14 double 6.5″ line arrays on each side of the podium in conjunction with two QR24 4x 6.5″ modular line source array systems as near and side fills. This way, he was able to create an absolutely clear stereo image. The sound system was driven by four Alcons Sentinel10 amplified loudspeaker controllers.
"No matter the musical genre or application – their tonal warmth, the unobtrusive resolution of the speakers, and their sound dispersion are unparalleled. With Alcons, I can actually hear 1:1 what I'm putting out at the mixing console," says FoH engineer Rolf Dressler.
The Alcons LR14 is a passive 2-way line-source loudspeaker system that can be used as a vertical array, either stacked or flown for both mobile applications and fixed installations. Equipped with the RBN401 pro-ribbon driver on a "Morpher" lens that provides up to 94% frontal coverage, thanks to the natural cylindrical (isophasic) wavefront of the pro-ribbons, the system offers absolutely seamless horizontal coverage of either 90° (LR14/90) or 120° (LR14/120).
QR24 for natural, dynamic sound reproduction
The QR24, on the other hand, is a modular 2-way column loudspeaker system for use as a vertical array system in mobile applications and fixed installations. Even in the most acoustically challenging environments, it captivates with a completely natural, dynamic sound reproduction, outstanding intelligibility and throw. The symmetrical acoustic design, in combination with the patented horizontal dispersion of the RBN HF drivers, offers a coherent horizontal pattern control with seamless coverage, significantly widening the "stereo sweet spot" for the off-axis positioned audience.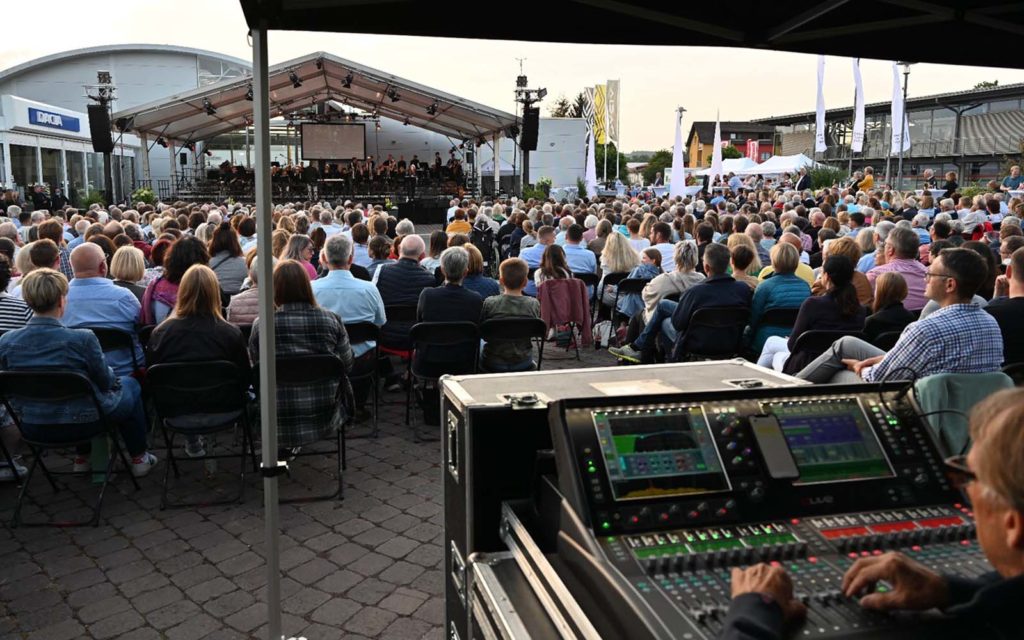 Dressler, being a dedicated Alcons user for many years, says of the Dutch manufacturer's pro-ribbon systems: "In my opinion, Alcons pro-ribbon transducers are simply the cutting edge of sound reinforcement systems. No matter the musical genre or application – their tonal warmth, the unobtrusive resolution of the speakers, and their sound dispersion are unparalleled. With Alcons, I can actually hear 1:1 what I'm putting out at the mixing console."
"At classical open-air concerts, you have to deal with a lot of dynamics, which means that the audience must be able to hear and localize pianissimo parts just as well as fortissimo moments. In Frankenberg, we always have about 1,000 listeners who are looking forward to a nice evening. Since it is youth symphony orchestras playing there, I'm set up to provide some 'help' at the mixing console, working partly with technical and partly with manual interventions. This means that I'm quite challenged as a sound engineer and cannot additionally take care of the loudspeakers at the same time. Fortunately, with Alcons, I don't have to."
Dressler appreciates the organizer's commitment to encouraging young musicians. "The commitment of everyone involved in this project is a particular motivation for me to make the orchestra sound as good as it possibly can. In doing so – as in every event – Alcons helps me with all available systems. In particular, the QR24 is a fantastic solution that I use on a regular basis."
Photo credits: Dorothea Wagener & Nico Gilfert. For more info:  www.auditiv.de
Alcons products involved: