Alcons LR24 Impresses At Nashville's CMA Fest 2022
October, 2022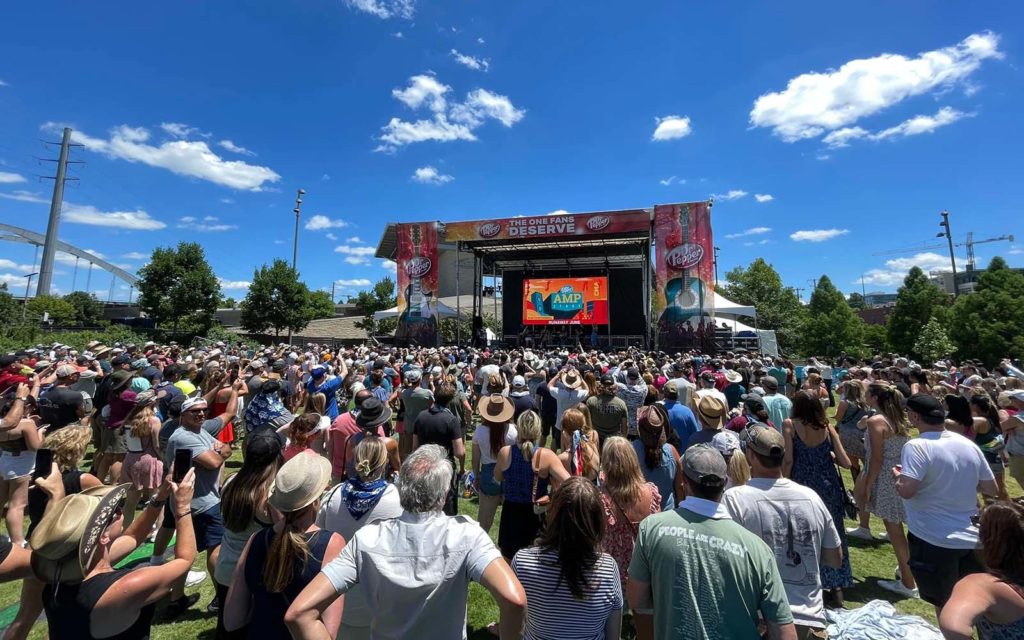 Staged by the Country Music Association in Nashville, CMA Fest is considered one of the largest country music festivals in the world, attracting tens of thousands of fans from all 50 US states, as well as 37 other countries. The 2022 event saw an Alcons LR24 pro-ribbon system bring 'throwback' performances by new and established artists to enthusiastic audiences at the Dr Pepper Amp Stage.
Alcons Audio is enjoying an increased profile in the US live audio market, with high profile demonstrations of its LR24 pro-ribbon touring system in Hollywood and Nashville attended by many leading US touring sound engineers. One of the invited guests was Erik Rogers, a front of house engineer with a client list including Breaking Benjamin, Godsmack, Avenged Sevenfold, Stevie Wonder and many more.
Audience experience
"My parents took me to my first concert in 1986, when I was nine years old. I still remember exactly how it felt. Now, as a professional FoH engineer, I mix every show so everyone in the audience can have the same life-changing experience I had 36 years ago," he says.
"When I first met Alcons' co-founder Tom Back and North American Sales Manager David Rahn, they didn't start talking about tech specs. Instead they talked about the audience experience, about music. We talked about what we wanted to hear. And when I heard the demo, I heard detail in music I was very familiar with that I had never heard before."
Someone else present at the Nashville demo was Paul Owen, a British audio engineer who recently joined technical event production company DCR Nashville as vice-president. "We met with Paul and his team, who were very impressed and open to working with us to expose the Nashville community to the quality of our pro-ribbon systems," says David.
Returning after a two year break, due to the COVID-19 pandemic, the 49th CMA Fest was the perfect way to showcase the advantages of a pro-ribbon system in the real world environment of a festival stage.
Sound set-up at CMA Fest
DCR Nashville provided the system, which Tom Back worked alongside Erik and Paul's team to set up. It comprised eight flown LR24/90 three-way, dual 12" mid-size line-array module per side and six BC543, triple 18" very high-output cardioid subwoofers, arrayed in front of the stage. They were complemented by six LR18 three-way, dual 8" compact line-array modules, used as single element front fills, evenly spread across the stage front. The system was powered and controlled by 36 channels of Sentinel10 amplified loudspeaker controllers.
"Every guest mixing engineer who came through was complimentary of the system. The artist managers I met were also very happy with how the Alcons pro-ribbon system had made their artist sound," says Erik Rogers, FoH (Breaking Benjamin, Godsmack, Avenged Sevenfold, Stevie Wonder a.o.)
"Although I had heard several demos, I hadn't deployed or mixed on an Alcons pro-ribbon system prior to CMA Fest," says Erik. "It was an ideal situation. It was outdoors, with no roof, no reflections and no limits! My only initial concern was whether the system would cover the depth of the audience area, as the entrance was over 300 feet (91.5 meters) from the system. But I'm happy to say the LR24 covered from the barricade all the way back to the entrance flawlessly."
As well as its coverage, Erik was also very impressed with the system's exceptional audio quality.  "Starting with the artist on stage, the source material passes from their fingers and voices through microphones, a mixing console and, ultimately, the Alcons LR24. The system performance was so transparent that I found myself using the console much more surgically than I usually do. I could really focus in on the intricate details of each input," concludes Erik.
For more info: lr24.info, www.cmafest.com, www.erikrogersaudio.com and www.dcrnashville.com
Alcons products involved: