Alcons Continuous To Impress US Touring Engineers
May, 2022
Two years after the COVID-19 pandemic brought the global live music industry to an abrupt halt, the live touring business is again up and running. When Alcons Audio held a special demonstration in Hollywood with the LR24 mid-size line array touring system for larger venues, the company and invited engineers alike were keen to bring new levels of audio excellence to US audiences. Now, with optimism returning to the industry, live sound engineers are again clamoring for rental houses to embrace Alcons pro-ribbon solutions.
Incredibly positive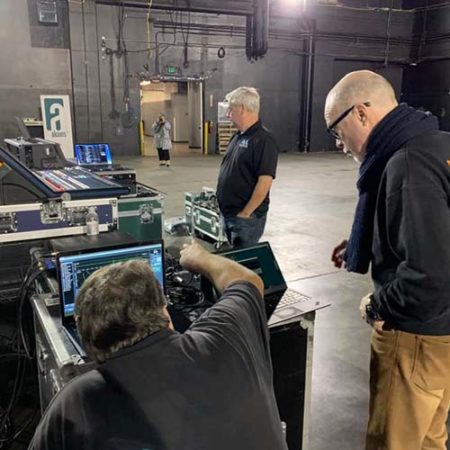 The first invitation-only LR24 demonstration/test drive event was attended by many very highly regarded US touring sound engineers, including Robert Scovill, David Morgan, Brad Madix, Greg Price, Gord Reddy, Gary Stokes, Erik Rogers and more. Impressed by what they heard, the reaction was exactly what Alcons Audio North American Sales Manager David Rahn had hoped for.
"The response to the system was incredibly positive and we had engineers asking for vendor sources to quote on upcoming tours immediately after the demonstration," he says. "Of course we could have no idea that, shortly afterwards, we would be left wondering what the future of touring would look like."
Fast forward 28 months and, with the North American touring market again in full swing, the interest in Alcons pro-ribbon touring solutions has returned.
"Old friends are continuing to support us and new engineers are coming on board, pushing to see our high quality systems available from vendors who provide concert systems for large scale venues such as amphitheaters, arenas and stadiums," says David.
Robert Scovill's resumé reads like a Who's Who of high profile touring artists. Currently on a national tour with Kenny Chesney, he is very happy to have a nearfield system of Alcons Audio VR5 mini versatile monitors and BF151 compact subwoofers helping him to dial in his mix, providing the best sound for both artist and audiences.
"I was invited to the LR24 event right before COVID-19 hit and I was instantly impressed with the capabilities of the system," he says.
"The top end and midrange has a unique approach to high frequency reproduction in concert sound and frankly, its performance is spectacular," Robert Scovill (Rush, Tom Petty & the Heartbreakers a.o.)
"While the opportunity to deploy one of their pro-ribbon systems as a main PA has not immediately been there for me, I have taken advantage of the Alcons technology in my nearfield set up, which I use to build mixes in rehearsals and then deploy for control room-style applications at front of house while on tour. Band members coming in to review sounds and mixes have been immediately struck by the system, remarking that the size of the boxes do not give any clues to 'bigness' of the sound that they are hearing."
In rehearsals, the systems engineer working with Robert, took the time to create some target frequency profiles to help make the transition back to traditional compression drivers as seamless as possible. "It was a great idea, a great bar to set for the upcoming work and frankly, it has worked like a charm," says Robert. "If I have anything to say about it, these monitors will be a part of my touring kit for the foreseeable future."
Nashville LR24 Demo 2022
Sean Quackenbush, FoH engineer for Brandi Carlile, attended the 2022 demo of the LR24 in the incredibly acoustically challenging Bridgestone arena Rehearsal Hall in Nashville Tennessee and is similarly positive. "I started hearing about Alcons pro-ribbon systems a few years ago," he says. "A number of engineers I know and respect have also told me really good things about the system, so I wanted to get a closer look, I was convinced that this is the system I want to be mixing my artists through."
Another engineer equally impressed with the LR24 system is Erik Rogers. "I was so grateful for the opportunity to spend time with the LR24 system, alongside of some of the smartest and most talented audio engineers in the business. At the same time I had a fantastic opportunity to meet and mentor some young, talented students from Belmont University, who will be the Alcons sound engineers of the future."
He adds: "I found the detail coming from the LR24 boxes was stunning, while the horizontal and vertical coverage was absolutely seamless."
"Alcons is definitely on my rider and I look forward to an opportunity to carry a system on tour, " Erik Rogers (Godsmack, Hunter Hayes, Avenged Sevenfold)
With a steadily growing band of supporters asking for Alcons pro-ribbon solutions, the future is certainly bright for the brand and those lucky enough to mix on or listen to its systems.
"Covid-19, Supply chain challenges, shipping logistics and other challenges abound could not stop Alcons breaking into the incredibly important and influential North American market. We work hard to demonstrate how our systems can bring huge benefits to audiences in any size of venue," says David Rahn.
For more information: LR24.info and LR24 quotes